The controversy surrounding Ronald Sullivan, the Harvard dean representing disgraced film producer Harvey Weinstein, demonstrates "the toxic union of identity politics with the consumerist model of education, whereby the student is a customer and therefore is always right," according to Manhattan Institute scholar Heather Mac Donald.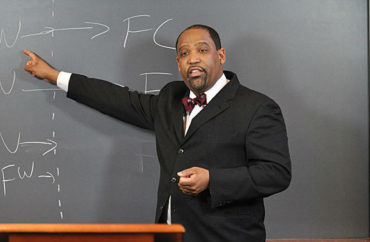 Mac Donald writes in The Wall Street Journal that by taking student complaints about Sullivan seriously, "Harvard puts its commitment to identity politics above the core tenets of due process."
Mac Donald blasts the university's coddling response to "hysterical students":
Six Harvard dorms held "listening sessions" attended by emissaries from the university's Office for Sexual Assault Prevention and Response, whose website urged traumatized students to seek mental-health services and other help from Harvard's massive Title IX bureaucracy. Harvard's dean of students and its lead Title IX coordinator attended a student protest outside the main administration building, where the ubiquitous Office for Sexual Assault Prevention and Response doled out hot chocolate.

Still-unidentified vandals spray-painted #MeToo slogans such as "your silence is violence" on Winthrop House. The record reveals no condemnation from Harvard officials and requests for comment were not returned at press time. The Association of Black Harvard Women complained that Mr. Sullivan (who is black) had "failed" female African-Americans at Harvard and had compromised his ability to support "survivors . . . as they deal with their trauma."
Mac Donald continues to note that these student responses could have been a valuable moment for education. Harvard could have explained to students that defending someone accused of a crime does not mean condoning that crime, and that all defendants have a right to legal defense.
But the administration decided to "kowtow" to the students. It even went as far as distributing an anonymous climate survey, validating the idea that there is something objectionable in Sullivan's decision to defend a client:
The anonymous climate survey arrived in Winthrop House members' email boxes this month. Predictably, it asked if the house was "racist" or "homophobic" and whether it has a "strong commitment to diversity, equity, and inclusion." Harvard might as well close up shop if there is any doubt in 2019 that the answers to these questions are no and yes, respectively. And what do racism and homophobia have to do with the Weinstein case anyway?
Harvard is stoking a "victimhood ideology" that is hostile to education, Mac Donald writes.
"Even if Mr. Sullivan ultimately keeps his job at Winthrop House—or at Harvard—Harvard's graduates will carry with them into the world a profound ignorance of the principles that safeguard American liberties," she concludes. "As they assume positions of power and influence, that will put everyone's freedom at risk."
MORE: Harvard students trying to take down professor accused of racism
IMAGE: Harvard Gazette
Like The College Fix on Facebook / Follow us on Twitter