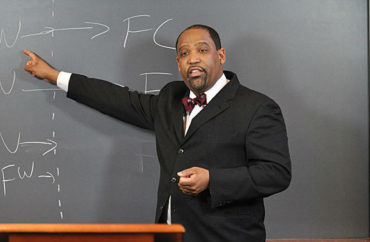 Campus newspaper editor designed 'racially offensive' flyer
One of the fun parts of intersectionality is seeing who can demonstrate the most intersecting oppressions.
If you're a student or professor at Harvard University, chances are you don't have many. You are unbelievably privileged. But even those with relatively few can unexpectedly turn the tables on their competition for who's most oppressed.
We're seeing one such battle in the student-led effort to remove a faculty dean – what used to be called house master – because he's representing Harvey Weinstein, the disgraced Hollywood mogul, in his criminal trial.
Though student activists got Harvard to open an investigation into Ronald Sullivan – the first time that's ever happened in the history of house masters – now their movement stands accused of racism against the black law professor and Winthrop House faculty dean.
The Harvard Crimson reports that flyers designed by a newspaper staffer have been denounced as "racially offensive" because of how they depict Sullivan.
Sullivan and Stephanie Robinson, the other faculty dean for Winthrop, wrote to house residents Sunday about student concerns they had received about the flyers.
The flyers were distributed last week in Winthrop by Crimson design editor Danu Mudannayake and "some members" of the anti-assault campaign Our Harvard Can Do Better. She denies "they depicted Sullivan as a caricature or in a racist manner."
According to the Crimson, that same day "a vandal spray-painted slogans calling for Sullivan's removal on the exterior of Winthrop."
MORE: Sullivan under fire for 'participating in a tradition older than the nation itself'
Sullivan and Robinson told house residents that some students were "particularly concerned that the flyers circulated during Black History Month":
It should go without saying any racially offensive content undermines our collective commitment to respect and the value we place in everyone in our community, regardless of their race. From our vantage point, the best way to challenge speech any of you deem unpleasant is to reaffirm our core values, remind ourselves that we are a university with a robust norm of freedom of expression, and speak back to any offending speech.
Mudannayake tried to change the subject. She invalidated Robinson's role as faculty dean by referring to her as Sullivan's wife and accused them of trying to divert attention from Sullivan's supposed wrongdoing of defending an accused person.
The faculty deans "have used this as an opportunity to diverge the spotlight off of the survivors in Winthrop House," she told the Crimson. (It's the deans' responsibility to share the concerns of students within the Winthrop community, including her perceived racist flyer.)
Sullivan and Robinson "have gone on with this allegation that myself and others have a racially-charged motive with wanting him to be removed," Mudannayake said.
In doing so, she seemed to forget that Harvard students have really strong reactions to perceived racism, even on flimsy evidence. And unlike other cases, her Winthrop peers know she made the flyer.
Meanwhile, campus police continue to investigate the graffiti on Winthrop calling for Sullivan's removal. If it turns out Mudannayake or her comrades are responsible for that one, don't expect Harvard to tell the public.
MORE: Harvard investigates black faculty dean for representing Weinstein
IMAGE: Harvard Gazette
Like The College Fix on Facebook / Follow us on Twitter