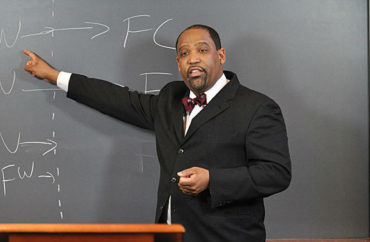 'Responsibilities' to students vs. 'academic freedom' and 'vigorous defense'
Is a defense lawyer allowed to represent "unpopular clients" while still overseeing a residential college at Harvard University?
The Ivy League administration is launching a "climate review" of Winthrop House because its faculty overseer – who used to be called "masters" – is representing disgraced Hollywood producer Harvey Weinstein in his criminal trial.
Students are also upset because law professor Ronald Sullivan is representing a black economics professor at Harvard, Roland Fryer, accused of sexual harassment.
Sullivan serves as faculty dean of Winthrop House, "the Gryffindor of the 12 undergraduate houses of Harvard" that brags about producing "history-making wizards" such as the Kennedy brothers and congressman Barney Frank.
The Harvard Crimson reports that a former dean of freshmen will lead the climate review to address the concerns of Winthrop House residents about Sullivan's clients.  "In this situation, we would like to have a more complete understanding of the current environment at Winthrop House," Dean of the College Rakesh Khurana wrote house affiliates Monday:
The review has two parts: discussions between Winthrop affiliates and College officials, and an online climate survey run by the Office of Institutional Research — Harvard's internal research arm. Both are voluntary and intended to gather anonymous, aggregate information, which will then be shared with Khurana.
MORE: Racism ended, Harvard changes 'masters' title
Khurana has given conflicting signals about whether Sullivan can serve two masters – people accused of crimes and his residents.
He told the Crimson two weeks ago that he met with Sullivan to discuss the faculty dean's "responsibilities" in the position, but added last week that Sullivan has "academic freedom" to represent defendants and that "every individual is entitled to a vigorous defense."
Sullivan defended his decision to represent Weinstein in a letter to residents last month, explaining the importance of the presumption of innocence for "every citizen charged with a crime." Sullivan noted he also represented a black Harvard student arrested by Cambridge police.
Student protests have grown since then. Fifty students demonstrated for his resignation earlier this month, saying his work for defendants means he doesn't care about sexual assault, The Harvard Crimson reported. One cited his allegation that Harvard "coached" witnesses against Fryer, the economics professor. (A Crimson staffer helped organize the demonstration.)
The Association of Black Harvard Women also demanded Sullivan's resignation as faculty dean last week. It accused him of failing "the Black women in this community" as both a black faculty dean and community leader, "someone who we respected and looked to for guidance." (Sullivan already told house residents he was appointing a resident dean as "point person" for sexual assault issues.)
Read the latest Crimson report.
MORE: NYT ignores black defenders of Sullivan, believes white accusers
MORE: Sullivan helps black student who paraded naked avoid charges
IMAGE: Harvard Gazette
Like The College Fix on Facebook / Follow us on Twitter