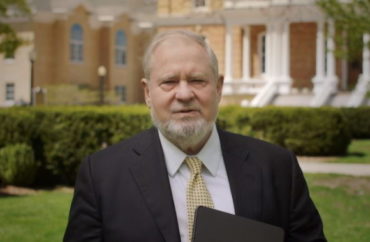 "I look forward to seeing you on August 23rd."
That from Hillsdale College President Larry Arnn, who said his campus plans to reopen for in-person classes in a video message directed to the institution's Fall 2020 class of incoming students.
Hillsdale is located in Michigan, where some of the most strict coronavirus lockdown regulations have been executed by Gov. Gretchen Whitmer. Nevertheless, Arnn said he plans to move forward with business as usual at the 175-year-old college.
"Of course we're going to have college," he said. "This is what we do."
"We are humans," Arnn said. "What does that mean to be human? It means we have to work. We'll starve if we don't. Also by our work we shape our characters and inform our intellects."
He criticized the notion that the economy can be turned on and off at will.
"We have to live. We are beings in motion," the college president said.
As for the college reopening, he said "this is what we do. We have been doing it for 175 years. We are going to keep doing it. And of course in the 175 years there have been many obstacles. The Civil War. … And the Great Depression."
Arnn said "we weathered those, and we are going to weather this. In fact, we are going to weather this easier than those."
He added that "if by some wicked chance the law doesn't let us" reopen this fall, the college will obey such an edict, but "I don't think that's going to happen."
"But if that does happen we are going to find a way to turn that to good, just like we found a way this time," he said.
Hillsdale is among a growing number of institutions committing to in-person classes this fall.
MORE: More universities announce plans for in-person classes this fall 
MORE: More campuses moving toward reopening in the fall
Like The College Fix on Facebook / Follow us on Twitter