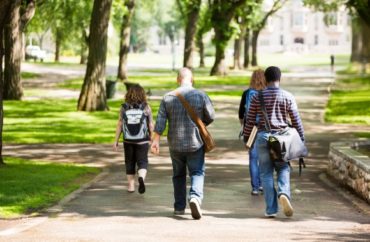 UPDATED
'We fully expect to have on-campus instruction'
This week has seen a flurry of campuses announce plans to offer in-person, on-campus instruction this fall semester, signaling a clear indication their plans to reopen in the wake of the COVID-19 lockdown.
Campus leaders for universities in Georgia and Alabama have announced as much. Wheaton College in Massachusetts, George Fox University in Oregon, Baylor and Midwestern State universities in Texas, North Carolina State University, Radford and James Madison universities in Virginia and others have also announced plans for in-person, on-campus classes this fall semester.
The trend was kicked off by Purdue University last week.
Protocols that the colleges and universities plan for safety measures typically include social distancing throughout campus, testing, deep cleaning of facilities, sanitizer kits on hand for all, and options for online schooling.
On Thursday, leaders of the Texas A&M and University of Texas systems announced they will reopen to welcome students in the fall — including plans to play football, the Texas Tribune reports. They joined Baylor and Midwestern State, which had already declared reopening plans earlier this week.
In the southeast, "We are expecting to have a fall semester at all of our universities," Finis E. St. John IV, chancellor of the University of Alabama system, told AL.com Wednesday. "…We fully expect to have on-campus instruction."
Echoing those sentiments, University of Georgia President Jere Morehead on Wednesday announced a "phased, gradual reopening over the summer."
"We are anticipating a resumption of in-person instruction for the fall semester beginning in August 2020 for all USG institutions," stated Morehead, according to a report in the Athens-Banner Herald.
Wheaton College in Massachusetts announced similar plans.
"After significant discussion among our faculty and campus leadership, we have affirmed our intention to deliver an on-campus fall semester, whenever we can begin that semester, with the precautions in place that we will need to ensure the health and safety of the members of our community," Wheaton officials stated Tuesday.
Also on Tuesday, Radford University in Virginia announced in a statement its reopening this fall would include "full operations, such as on-campus housing and dining services, followed by face-to-face instruction beginning on August 24, 2020." Its president, Brian Hemphill, stated officials are working to create social distancing protocols and other protection measures.
Also in Virginia, Virginia Commonwealth University President Michael Rao stated Tuesday "he is committed to having students and staff return to campus this fall after social distancing measures have appeared to prevent hospitals from becoming overburdened by patients," the Richmond Times Dispatch reports.
Midwestern State University in Wichita Falls, Texas, declared on its website Monday its "intent to be fully operational this fall for in-person instruction." The school said it will "follow guidelines set forth by our governmental entities and implement protocols that safeguard the health and well-being of all members of our campus community."
Editor's note: This post has been updated to report on several Texas universities that plan to reopen this fall. 
MORE: Campuses moving toward reopening in the fall
IMAGE: Tyler Olsen / Shutterstock
Like The College Fix on Facebook / Follow us on Twitter