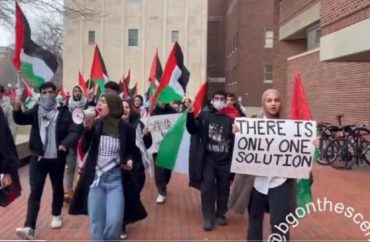 Kanye West's depiction as a "white supremacist" for his racist remarks last year is just one instance of falsely describing the rise in antisemitism as entirely a product of white nationalism, Richard Bernstein wrote in an op-ed for RealClearInvestigations on Thursday.
However nonwhite sources are often to blame for bigotry against Jewish people, a fact that the media obscures with a "reticence to even mention the ethnicity of antisemitic perpetrators unless they are white," Bernstein wrote.
"Among the strange bedfellows [of today's antisemites] are elements of the leftist 'woke' culture," evident on college campuses across the nation, according to Bernstein:
Last year…nine student organizations at the University of California Law School adopted a bylaw, initially adopted by the group Students for Justice in Palestine, that banned supporters of Zionism from speaking at their events. That incident attracted widespread attention, but there have been dozens of similar incidents on campuses across the country that have drawn much less notice.

According to an ADL report published in May last year, these anti-Israel gestures have included graffiti saying, "Free Palestine, From the River to the Sea," or, more crudely, "F*ck Israel, F*ck Zionists." Israeli flags have been burned during anti-Israel demonstrations. On several campuses there have been calls to boycott classes on Israel or classes taught by Israelis. Jewish students holding positions in student government have been pressured to resign…

At the University of Chicago last January, Students for Justice in Palestine called for a boycott of "classes on Israel or those taught by Israeli fellows," because, as one supporter of the boycott put it in the Maroon, the campus newspaper, "certain classes promote colonial narratives and Zionist propaganda."
"Some commentators, Jewish and not, regard the negative focus on Israel as a new form of antisemitism being adopted by individuals and groups on the left who, like the Students for Justice in Palestine, vehemently deny that they are antisemites," Bernstein wrote.
Hatred against Israel and intolerance of Israelis delegitimize the right of the only Jewish state in the world to exist and echo slander aimed at Jews for centuries. It also applies to Israel a double standard that ignores the far worse atrocities of much larger nations and disregards threats to Israel's existence, Bernstein wrote.
Read the entire piece at RealClearInvestigations.
MORE: Report details 'pervasive and relentless assault' on Jewish and pro-Israel students nationwide
IMAGE:BGOnthescene/Twitter
Like The College Fix on Facebook / Follow us on Twitter