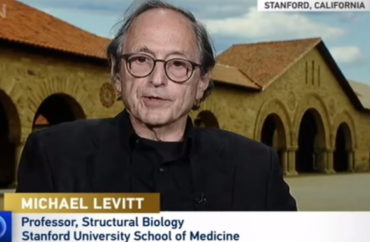 Michael Levitt, a Nobel Prize-winning structural biology professor at Stanford University, has been disinvited from an upcoming academic conference that he was slated to headline, the scholar announced on Twitter on Sunday.
The reason, according to Levitt, is because he has not toed the party line on COVID settled science, so to speak. Levitt has argued against COVID lockdowns and is a signer of "The Great Barrington Declaration" that warns of "grave concerns about the damaging physical and mental health impacts of the prevailing COVID-19 policies."
My keynote uninvited from https://t.co/KhepqykXW8

"… too many calls by other speakers threatening to quit if you were there. They all complained about your COVID claims".

Computational biology & biodesign are based on my work. Time to cancel them & me.

New Dark Age Cometh.

— Michael Levitt (@MLevitt_NP2013) October 18, 2020
Levitt tweeted Sunday: "My keynote uninvited from [The 1st International BioDesign Research Conference]. '… too many calls by other speakers threatening to quit if you were there. They all complained about your COVID claims'. Computational biology & biodesign are based on my work. Time to cancel them & me. New Dark Age Cometh."
Organizers of the International BioDesign Research Conference could not be reached for comment Sunday by The College Fix.
But it appears organizers have already memory-holed Levitt's appearance. He has been removed from the speakers list although at some point he had a bio listed on the website that has since been 404'd, meaning it's been removed from their server.
The inaugural BioDesign Research Conference, scheduled to take place in December, is billed as a chance for scholars to "showcase the latest achievements and research progress in the field of Biosystems Design and Synthetic Biology, to foster communication and interdisciplinary collaboration among scientists, to promote interactions between academia and industry, and to facilitate graduate student and postdoc training."
Apparently, according to Levitt's tweet, the several dozen scholars set to appear are not fans of his COVID stance, although its unclear how they feel about his biodesign work, which Levitt states he led the way in developing.
Levitt received a Nobel Prize in chemistry in 2013 "for the development of multiscale models for complex chemical systems."
Levitt has argued against lockdowns, telling the Stanford Daily in August that:
Many epidemiologists said it's because everyone locked down that things have improved, but then Sweden only implemented social distancing without a lockdown and the number of deaths in Sweden are proportionally exactly the same. …

I think lockdown is a very crude, medieval-sounding phrase. I think closing schools, closing business and places of work is not such a great idea and causes huge damage to the economy. It's wicked to people in the economy, because if you're a gardener or you own a restaurant, you can't work from home. …

It's also very unfair to the younger people and to the disadvantaged people — people have not fully estimated some negative results of the lockdown. Suicides, for example, have increased dramatically in certain locations, along with marital abuse, child abuse and addiction. …

There are clever ways of distancing, and washing your hands is a really good idea — wearing a mask is a good idea. There are lots of ways of doing a gentle lockdown or distancing, so I think a lockdown is very, very crude and shouldn't have been used in this century.
More recently, Levitt became one of more than 10,000 scientists who signed "The Great Barrington Declaration" that argues lockdowns create devastating effects.
"The Great Barrington Declaration, which is named after the town in Massachusetts that it was signed in, currently has signatures from 10,233 medical and public health scientists, 27,860 medical practitioners and 504,875 concerned citizens," Newsweek reports.
The declaration states in part that "Current lockdown policies are producing devastating effects on short and long-term public health. The results (to name a few) include lower childhood vaccination rates, worsening cardiovascular disease outcomes, fewer cancer screenings and deteriorating mental health – leading to greater excess mortality in years to come, with the working class and younger members of society carrying the heaviest burden. Keeping students out of school is a grave injustice.
"Keeping these measures in place until a vaccine is available will cause irreparable damage, with the underprivileged disproportionately harmed."
MORE: Public health profs warn COVID-19 crackdown harmful
IMAGE: YouTube screenshot
Like The College Fix on Facebook / Follow us on Twitter