According to a lengthy statement released Sunday morning by Dan Mogulof, assistant vice chancellor for the Office of Communications and Public Affairs at UC Berkeley, campus brass says the school has been wrongly maligned in its handling of the recent incident in which a conservative activist there was punched, as well as the allegation it does not support free speech.
"The afternoon of Feb. 19 began like any other on the UC Berkeley campus. Spread across Sproul Plaza were dozens of tables where many of the university's 1000-plus student groups, representing a full array of beliefs, interests, and ideologies, engaged in advocacy and outreach, all of them equally supported, respected and welcome by the campus administration," the statement read.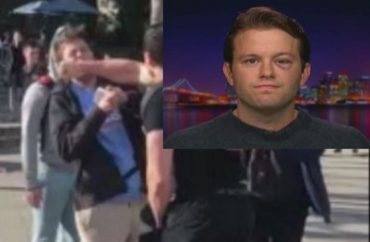 It went on to describe the incident in which a non-student and passerby punched a non-student conservative activist in the face, and republished the numerous press releases the university published as it actively pursued the investigation in the weeks that followed. (The suspect was arrested Friday.)
"In certain quarters of the media world theatrical outrage was expressed regarding the university's supposed failure to prevent the criminal act in question. We readily admit that this university—like every single town, city, county, and state in this country—is unable to prevent a lone bad actor who was neither employee or student from engaging in reprehensible behavior on a campus spanning 1,200 acres and a population of 50,000 people," the statement read.
"We don't see a way to do that, but that doesn't mean our police force and the administration don't awaken every morning trying their best to deter criminal behavior and keep our campus safe," it continued. "That objective is supported by imposing appropriate consequences when rules and laws are violated and we have done everything in our power to make sure that happens in this instance, as in all others. We have an excellent police force, dedicated to one thing: the safety and well-being of the campus community."
"In the days that followed, armchair experts with seemingly little understanding of how a police department and the office of the local district attorney operate, or of the investigative norms that are applied to all cases, not to mention the details of this particular case, immediately expressed disbelief and anger that the suspect had not been arrested," it added.
"These critics stated without substantiation that the delay was somehow due to the imputed political beliefs of the campus administration. In so doing they willfully impugned the integrity and independence of the excellent officers of the UCPD who seek to uphold the law regardless of who the perpetrators are, or what they happen to believe in."
" … Finally, the absurd allegations regarding UC Berkeley's support for free speech and all of its students, regardless of their perspectives, have no basis in fact. In the last year alone, this University spent more than $4 million to ensure that our conservative students could safely and successfully hold events on campus and invite speakers of their choice to these events."
"Although we made every effort to inform the media, not a single outlet reported on the incontestable fact that these conservative student groups hosted a large number of conservative speakers, including Charlie Kirk (founder of Turning Point USA), Rick Santorum, Dennis Prager, Heather MacDonald, Candace Owens, Dave Rubin, Steve Simpson, Antonia Okafor and Allie Stuckey. Not a single disruption. No opposition. No protest. No coverage."
"Our commitment to freedom of speech and belief is unwavering and no amount of incomplete, distorted news coverage is going to change that."
Like The College Fix on Facebook / Follow us on Twitter