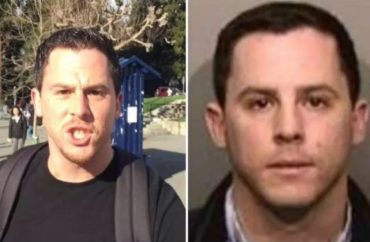 It's been two weeks since a conservative activist at UC Berkeley was punched in the face by an angry passerby — and police have finally arrested the suspect.
"Today, an Alameda County Superior Court Judge issued a warrant for the arrest of the suspect in the matter involving a February 19 assault on Sproul Plaza. Zachary Greenberg was arrested by the University of California Police Department on the warrant and booked into jail at 1 p.m.," UC Berkeley announced Friday.
"UCPD will formally present the case to the Alameda County District Attorney's Office for consideration of the filing of criminal charges. Once the matter is presented and reviewed by the District Attorney's Office, additional information will be made available regarding a charging decision," the statement continued.
The victim is Hayden Williams, who is not a UC Berkeley student. He is a field representative for the Virginia-based Leadership Institute, which trains young conservatives and publishes Campus Reform. But Williams was at Berkeley that day at the behest of Turning Point USA, another conservative campus activism group, to help recruit new members.
Roughly 60 seconds of video obtained by The College Fix shows Greenberg calling Williams a "racist motherfucker" and tells him he would "shoot his ass." They tussled for a bit, with Williams appearing to try to defend himself. Greenberg then punched Williams in the face with a haymaker and calls him "fucking cunt" as he walks away, the video shows.
UC Berkeley officials confirmed to Campus Reform on Friday that Greenberg was once employed by the school for several months in 2010 as a lab assistant in the Department of Psychology.
Charlie Kirk, founder and President of TPUSA, issued a statement after Greenberg's arrest calling the evidence against the suspect "incontrovertible," Fox News reports.
"We hope 28-year-old Zachary Greenberg is prosecuted to the full extent of the law for assault with a deadly weapon, which should be considered an act of hate. Hopefully, this dark chapter will act as a wake up call to those concerned about actual politically motivated hate crimes in America. Berkeley and all college campuses across American should be safe havens for free thought and opinions – especially for a targeted conservative minority," Kirk stated.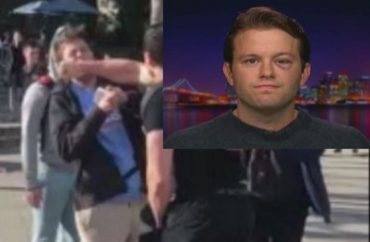 Fox News also reports that the "attack sparked outrage on social media over what many critics saw as the university's largely muted and delayed responses to the alleged assault. Officials have bristled at suggestions that the case was handled with less urgency because the complainant is conservative. Greenberg is being held on $30,000 bail and is scheduled to appear in court on Monday."
Williams, in a statement to Campus Reform, also spoke about the development.
"I am grateful to the University of California Berkeley Police Department for its dedication to identifying and arresting the man who attacked me. But while this is a moment for celebration, I remain disappointed by the UC Berkeley Administration, which allowed a culture of intolerance and violence toward conservatives to grow. I hope UC Berkeley's leadership will seize on this moment-in-time to take deliberate steps to establish a zero tolerance policy when it comes to violence, and restore Berkeley's legacy as 'Home of the Free Speech Movement."
MORE: Conservative punched in face over 'This is MAGA Country' poster at UC Berkeley
Like The College Fix on Facebook / Follow us on Twitter