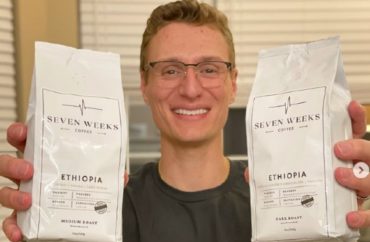 Donates 10 percent of sales to pregnancy resource centers
A business degree is not necessary to run a successful company, a coffee entrepreneur recently told The College Fix.
"You need passion, hard work and discipline," said Anton Krecic, who started Seven Weeks Coffee in September 2021.
Instead of a specific degree, he said, it's more important to be "passionate about your business and hard work will come easy."
He recently spoke to The Fix about his approach to business and why he wanted to start Seven Weeks Coffee, a company with a pro-life mission.
"At seven weeks a baby is the size of a coffee bean, [it is] also around the same time a mom has their first ultrasound," said Krecic (pictured).
His company donates 10 percent of its sales to help pro-life pregnancy resource centers. It has donated over $6,500 so far, according to the company's profile, and donated to 15 centers. Seven Weeks has sold to at least 2,000 customers.
He told The Fix it's important to remain "focused on your mission."
Krecic has a degree in logistics and supply-chain management. He did not get involved with pro-life activism until after college, which he regrets.
"Many people in college are searching for truth and we need to be there with the answer to the difficult conversation of abortion," Krecic said.
MORE: Utah community college resolves complaint from pregnant student told to drop class
A visit to a pregnancy resource center led him to want to get more involved.
He said he "started out of a passion for coffee" and that as his convictions grew he had a "desire to create a brand around values I really care about."
"My hope and belief is that we are making a difference with every center we get to support," he told The Fix. "Almost every center is underfunded, so we know that our donations are making a difference."
The company also supports human rights beyond working to end abortion. Seven Weeks sells coffee sourced ethically from Ethiopia in partnership with a Christian company.
"Genesis Coffee Lab's relationship with the coffee producers is known as Direct Trade," according to the company's website. "They personally know the Washing Station owners who trade equitably with the hundreds of coffee farmers. Through this relationship, farmers can bring their crops to market and earn honest wages."
Krecic shared other values and advice to guide college students who want to start a business while in school.
"Be bold, be clear and get going," he said. "Be bold by taking a stance even though it is unpopular, by doing this you will be providing a platform for conversation to take place."
Businesses should have a "defined mission," which will help entrepreneurs "create [their] business niche."
"This is a huge part in establishing a brand and creating a healthy business culture," he told The Fix. "…Finally, get going. So often we let a good idea fall away because we want to make it perfect."
He said when his company started, it just focused on "selling good coffee consistently."
"After we established that model we then expanded to new products and additional services," he said. "Your business will take time to [grow], so get started and don't make perfect the enemy of the good."
MORE: Texas A&M receives $50 million for new entrepreneurship program
IMAGE: Seven Weeks Coffee/Instagram
Like The College Fix on Facebook / Follow us on Twitter