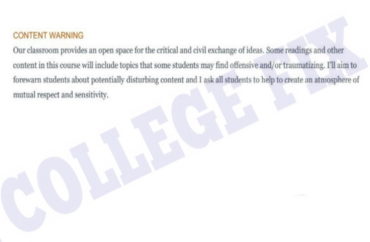 University of Austin at Texas business school professors have been advised to warn their students about possible curriculum-induced trauma.
The recommendation was sent by Ty Henderson, associate dean for undergraduate programs for UT-Austin's McCombs School of Business, who emailed the school's business professors a 12-page syllabus template on Wednesday obtained by The College Fix.
The "content warning" section included the following suggested paragraph:
Our classroom provides an open space for the critical and civil exchange of ideas. Some readings and other content in this course will include topics that some students may find offensive and/or traumatizing. I'll aim to forewarn students about potentially disturbing content and I ask all students to help to create an atmosphere of mutual respect and sensitivity.
The syllabus template also proposed that scholars include a "land acknowledgment":
I would like to acknowledge that we are meeting on the Idigenous [sic] lands of Turtle Island, the ancestral name for what is now North America. Moreover, I would like to acknowledge that Alabama-Coushatta, Caddo, Carrizo/Comecrudo, Coahuiltecan, Comanche, Kickapoo, Lipan Apache, Tonkawa, Ysleta Del Sur Pueblo, and all the American Indian and Indigenous Peoples who have been or have become a part of these lands and territories in Texas.
Additional syllabus recommendations included statements on diversity and inclusion and preferred gender pronouns:
DIVERSITY AND INCLUSION
It is my intent that students from all diverse backgrounds and perspectives be well served by this course, that students' learning needs be addressed, and that the diversity that students bring to this class can be comfortably expressed and be viewed as a resource, strength and benefit to all students. Please come to me at any time with any concerns.

PERSONAL PRONOUN PREFERENCE
Professional courtesy and sensitivity are especially important with respect to individuals and topics dealing with differences of race, culture, religion, politics, sexual orientation, gender, gender variance, and nationalities. Class rosters are provided to the instructor with the student's legal name. I will gladly honor your request to address you by a name different than what appears on the roster, and by the gender pronouns you use. Please advise me of this preference early in the semester so that I may make appropriate changes to my records.
While the diversity and inclusion and preferred gender pronouns disclosures are not required, "they are often included in syllabi and are considered important for students as they engage with and navigate your course and the university," professors are told in the document. "You are strongly encouraged to provide [them] in your syllabus (provost)."
Under a separate section labeled "student rights & responsibilities," one suggested proviso for students states: "You are responsible for creating an inclusive environment and for speaking up when someone is excluded."
Despite the recommendations, the only university-required information on syllabi includes: course title, time, location, professor contact information and office hours, course overview, subject matter of each lecture, academic/learning goals, grading policy and means of evaluation.
Behold our new syllabus template at the McCombs School of Business. #txlege is this what you want to be paying for? pic.twitter.com/rNYD4FtVxo

— Richard Lowery (@RichardLoweryTX) August 10, 2022
Asked for comment about the syllabus template suggestions, UT Austin business Professor Richard Lowery told The College Fix that the "McCombs School of Business, under the leadership of Dean Lil Mills, has gone all in on moving from a mission of education and research to one of politics and activism."
"Trying to get every professor to use his syllabus to promote the left-wing agenda that is now fashionable at UT and throughout academia is beyond the pale, and the state must act immediately to restore institutional neutrality and common sense to the business school and the university," Lowery said via email.
MORE: Students demanded professor who refused to use trigger warnings be fired. So far, he's still teaching.
Like The College Fix on Facebook / Follow us on Twitter