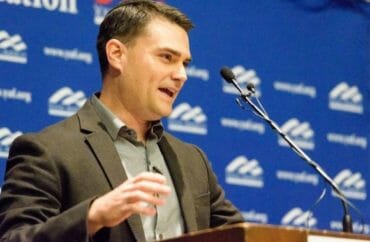 And 'security isn't the ONLY consideration on this scheduling'
When the University of Minnesota exiled a conservative pundit's lecture to the fringes of campus – after rolling out the red carpet for leftist speakers in more accessible venues – the Young America's Foundation cried foul.
It accused administrators of preemptively caving to a likely heckler's veto of Ben Shapiro, who is popular with college students and no stranger to attempted shutdowns when he speaks.
Now the conservative college organization is citing newly obtained internal emails to show that UMinn officials explicitly chose a venue for Shapiro with the motivation of limiting his audience.
A public records request revealed that it was administrators, not campus police, who ordered the move of the lecture to a harder-to-reach venue – essentially contriving a security excuse from the start.
MORE: UMinn exiles Shapiro to distant venue
"The admin has asked that we try to move this visit to the St. Paul campus" because of "past [Shapiro] lectures at other universities," Police Chief Matt Clark says in one email. He also said "the crowd size needs to be limited to 500."
Assistant Director of Student Activities Erik Dussault suggested that nowhere was suitable for Shapiro: "I'm not sure how we are going to find a venue on campus to accommodate this event." He said the administration expected Shapiro's lecture to be "protested and for there to be a community reaction."
Intriguingly, Provost Karen Hanson suggested that the university was making content-based decisions about how to handle Shapiro's lecture, which would be unconstitutional: "[S]ecurity isn't the ONLY consideration on this scheduling."
Despite this artificial limit on Shapiro's audience, the university apparently classified his lecture as a "large scale event," according to YAF. This let administrators subjectively require "enhanced security, emergency personnel, or specific precautions," while drastically limiting the venue options for organizers.
MORE: Violence erupts as protesters block entrance to Shapiro's speech
In contrast, the university gave fiery and divisive leftists – then-Sen. Al Franken and Sen. Elizabeth Warren – prime billing in a 1,500-seat venue centrally located on the Minneapolis campus.
After UMinn started taking skeptical media questions about why it was treating Shapiro so differently than ideologically opposite speakers, Vice President of University Relations Matt Kramer accused the conservative student organizers of "flat out lying" and urged his colleagues to "call them out on this."
You know that your emails are public record and can be obtained by groups that are hostile to you, right?
MORE: College cancels gun-rights speech – it might provoke 'intense debate'
Like The College Fix on Facebook / Follow us on Twitter