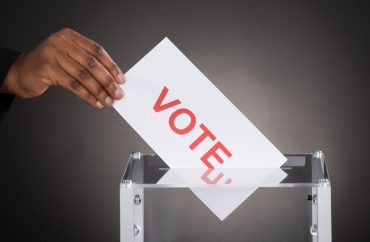 A slap in the face to MLK's legacy
If you want to win a seat in the student government at the University of Texas-Austin, just sign up to run. That's how I got elected graduate-at-large representative – no one else ran.
It's not enough for progressive activists to win office by running in the frequently unopposed races, however. They want to win by excluding others from running.
By a two-to-one margin, the student government approved a bill on March 26 that mandates racial and ethnic quotas in representation. Though its Supreme Court nullified the vote on AB-16 for failing to reach the "requisite super favorable majority threshold" – six members abstained – co-author Trip Davis told The Daily Texan he was confident the next assembly can pass the quotas under the "stricter" requirement.
Student leaders should give up. Not only does their rationale for the bill fall apart under the mildest scrutiny, but it actively thwarts student democracy at UT-Austin.
The six student-run agencies under the university-run Multicultural Engagement Center would get two seats each in the assembly, under AB-16. The MEC itself would appoint the representatives to these seats, meaning they are off-limits to student elections.
The covered agencies are: Afrikan American Affairs, Asian Desi Pacific Islander American Collective, Latinx Community Affairs, Native American and Indigenous Collective, Queer and Trans People of Color Agency, and Students for Equity and Diversity. (The latter is the only one that appears to be open to non-Hispanic whites.)
Bill sponsor Davis had to ignore reality in order to persuade his colleagues to approve these quotas. At the final assembly meeting of the semester, he cited the "hindrances, the obstacles and the difficulties of running" and winning seats.
"There are years where they're very competitive races. There are years where people across every seat do not make it into the assembly, and during those years, you can see a very homogeneous assembly," he claimed, according to the Daily.
Unfortunately for Davis's argument, just two weeks earlier, students overwhelmingly voted for two African Americans for president and vice president. They drew more than two-thirds of "first-choice" votes, according to the Daily. The student government as a whole also has greater diversity than the student body.
Clearly, racial animus is not a hindrance to serving in student government.
The bill also claims to value "diverse opinions, experiences, and viewpoints to the Student Government legislative process, as well as institutional actions as a whole." It's actually leaving out other identity groups that are not elite enough to get their own quota.
These include the Arab Students Association, Armenian Students Association, Chinese Students and Scholars Association, Indian Students Association, Indonesian Student Association, Japanese Association and Korean Students Organization.
MORE: UT-Austin student leaders demand protection for free speech
It becomes clear why these handful of identity groups were chosen for quotas when looking at the MEC's website description, which "presents peer-facilitated social justice and education trainings."
Social justice advocacy permeates the bill. The Queer Trans People of Color Alliance, whose Twitter account is followed by multiple Antifa groups in the Austin area, offers events such as "queer [do it yourself] fashion as a revolutionary tool." Afrikan American Affairs has shared tweets from Palestinian-American activist and anti-Semite Linda Sarsour, co-chair of the Women's March.
The groups granted quotas in this bill all share one key aspect: They participate in left-wing activism.
What is most disturbing about this legislation, however, is its infantilization of minority students.
Any student who believes she has something worthwhile to bring to student government, regardless of her skin color or background, has the opportunity run, and chances are she'll win. But the bigotry of low expectations, which forms the basis of the left's agenda on campus, is on full display in AB-16.
It views half a dozen minority groups as incapable of either running or winning these seats, and as such, they must be shielded from the democratic process and have legislative power bestowed upon them. It treats them differently in the name of equality.
Representative Lillian Bonin, who opposed the bill, told me she found the discussion on the bill "honestly insulting [to] the capacity of such minority individuals to aspire to such positions inside SG, running quite counter to what is demonstrably true of the diverse representation within the assembly."
It was not written "with genuine concern for minority individuals in those MEC organizations," said Bonin, whose term ended after the meeting. "This was a not-even-veiled attempt and belittle[ment] of the potential and capability of those individuals to succeed on their own." The bill is "a full affront on what it means to have a democratically elected representative body."
AB-16 "is premised on identity politics, the ideology du jour that denies people their agency as an individual and demands that people conform to the group," Ashley Vaughan, junior vice chair of the Young Conservatives of Texas and former YCT chair at UT-Austin, told me.
"A representative body that is appointed on high, rather than elected by those it claims to represent, is a sham," said the UT alumna. The bill "asserts the idea that individuals are be simply reducible to their race.
Sadly, it's not a surprise by now that today's student activists look with disdain on the message of Martin Luther King Jr., whose dream for his children was to be judged "by the content of their character." For most of our student representatives, the content of one's character is still secondary to the color of her skin.
MORE: UT violates Constitution with policies against 'rude' and 'insensitive' speech
IMAGE: Andrey Popov/Shutterstock
Like The College Fix on Facebook / Follow us on Twitter