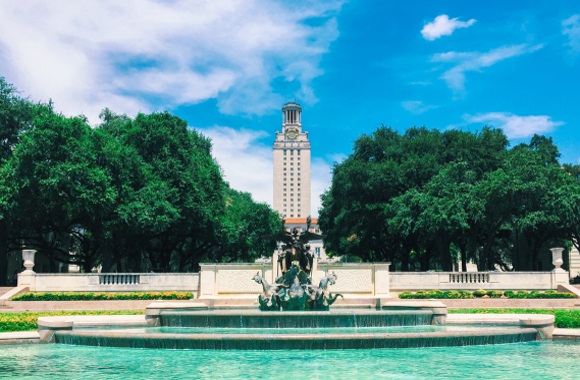 Author had 'absolutely no degree of optimism' resolution would pass
The University of Texas-Austin student government took a step toward protecting free speech on campus last month, asking the administration to support principles pioneered by the University of Chicago.
By adopting the so-called Chicago Statement on freedom of expression, UT would make a "broad and internationally-recognized statement" in favor of students' rights and "create a specific impetus for resolving many critiques levied against" the university, according to the resolution, approved Feb. 19.
It cites the public university's "red light" rating from the Foundation for Individual Rights in Education, which means UT has policies that are a "clear" threat to freedom of expression, regardless of "how the policy is applied."
The resolution also notes that free-speech nonprofit Speech First is suing the university, going after speech-restrictive policies such as UT's Campus Climate Response Team and verbal harassment rules. A federal court heard arguments in Speech First's lawsuit on Friday.
"It is clear something needs to change and that some kind of foundational principles must be put into place to ensure student rights aren't continually swallowed up in administrative bureaucracy," according to the resolution.
The principal author of the resolution told The College Fix she had "absolutely no degree of optimism" that it would clear the student government when she introduced it, "given the intensity and quantity of questions levied during debate."
But she's had "tremendous success with this SG assembly in just standing 100% by what I believe," said Lillian Bonin, liberal arts representative and vice chairman for the Young Conservatives of Texas at UT, in an email.
UT is lagging behind the other major public university in the state, Texas A&M, the only Texas school to receive a speech-friendly "green light" rating from FIRE. Two of the five Texas universities with a red-light rating are in the UT System.
But the new chancellor of the university system said in January that he has "begun discussions to adopt" principles similar to the Chicago Statement, according to The Daily Texan.
Succeeded because she didn't try to 'trigger the libs'
The Chicago Statement aims to limit an institution's role in regulating the free exchange of ideas on campus.
"It is not the proper role of the university to attempt to shield individuals from ideas and opinions they find unwelcome, disagreeable, or even deeply offensive," according to the four-year-old statement. Individuals must act on their judgments of the speech of others "by openly and vigorously contesting the ideas that they oppose."
As of January, 56 universities have adopted or endorsed the Chicago Statement or policies that are "substantially similar," according to a list maintained by FIRE. Notable universities include the public Purdue and private Princeton.
Two state lawmakers followed up on the approved UT student resolution by introducing a bill that would "establish broad parameters" for speech rights at public universities, the Daily Texan reported last week.
Though it doesn't mention the Chicago Statement, Senate Bill 18 "closely follows" its principles, according to the Daily. It would require public universities to inform community members of their new campus rights in handbooks, orientation materials and websites. Bonin told the Daily the bill "really nailed" the Chicago Statement.
Bonin credited her success with talking through the issue with fellow student representatives.
"It sounds simple but no one likes being talked down to or feeling like their views are being ignored[,] and if you really understand an issue, those kinds of conversations aren't hard to have," she told The Fix.
Bonin emphasized to other members that progressive speech could also be silenced without adoption of the Chicago Statement, which was partly inspired by the University of Chicago's defense of inviting a Communist Party candidate in the 1930s.
"Rather than trying to 'trigger the libs' or sneak some conservative policy past them, [conservatives should] try convincing them they should personally care about the issue," Bonin said: "I rarely see people addressing the other side in this way."
She acknowledged that UT-Austin has "generally solid free speech protections for group demonstrations and campus activism" by groups including her Young Conservatives of Texas. Its problem is that its policies "regarding other actions of individual liberty are severely lacking," Bonin said without elaborating.
Pretty awesome article from @TheFIREorg! https://t.co/6dka2Knszg

— Ⓛ Ⓘ Ⓛ Ⓨ (@lilybonin) February 24, 2019
Lawsuit isn't stopping university from changing policies
The UT-Austin administration finds no issue with its current policies and actions, which "are fully consistent with the ideas articulated in Chicago statement," J.B. Bird, director of media relations, told The Fix via email.
He said President Greg Fenves "relied upon" the Chicago Statement more than three years ago, when Fenves said that "a university has a solemn responsibility not only to promote a lively and fearless freedom of debate and deliberation but also to protect that freedom when others attempt to restrict it."
FIRE issued green-light ratings to UT's policies on "Speech, Expression, and Assembly" and "Student Discipline and Conduct," Bird emphasized. "These are core policies for how a university approaches freedom of expression," whereas FIRE has "very particular objections to the wording" of the two red-light policies on sexual misconduct and acceptable use of information technology.
The student government's vote "reflects its commitment to these values and we will review their recommendations closely," Bird said.
Nothing is stopping the university from changing its policies, however, if it weren't already satisfied that its policies protect free speech, Bird told The Fix at Friday's court hearing on Speech First's lawsuit.
That contradicts an uncredited claim in The Daily Texan that the lawsuit is "preventing a free speech policy change" as sought by the student government. Speech First President Nicole Neily also told The Fix in an email "the DT article is not accurate – in no way does our lawsuit prevent policy changes."
In the minutes from the Feb. 19 student government meeting where the resolution was approved, Bonin said that representatives from the dean of students' office told her the lawsuit was preventing a policy change.
The university's lawyers provided their first arguments Friday in response to Speech First's motion for a preliminary injunction. They argued that elements of UT policy were taken out of context and that Speech First, a member-based association, didn't have standing to sue.
The university's made its full defense available online and summarized it in a news update Friday. U.S. District Judge Lee Yeakel told the parties he will provide an initial ruling the week of March 4.
Speech restrictions historically targeted progressives
After the student government passed the resolution, The Daily Texan ran opposing takes by dueling columnists.
Julia Zaksek warned that adopting the Chicago Statement would be "dangerous" and create "hostile learning environments," which will "continue to encourage unproductive discussions." The women's and gender studies major said any free-speech policy should also "make sure it protects its students and ensures differing ideas and views are shared in a productive way."
There is a "slippery slope from hate speech to hate crimes," Zaksek argued, citing YCT's proposed "Catch an Illegal Immigrant Day" in 2013. The group cancelled the event, citing credible fears of "retaliation" by the university and a "safety issue" for event volunteers.
Columnist Abby Springs supports adoption of the Chicago Statement, bringing up the long history and importance of free speech at UT and other campuses.
Speech deemed offensive by administrators in the past came from anti-war protesters, communists and members of the LQBT community, Spring argued. If students want to demonstrate "in support of sexual assault survivors, against open-carry laws and about other important issues," then "keeping free speech regulation out of the hands of the powerful is the best way" to protect their rights.
There's nothing incompatible about adopting the statement and protecting the safety of community members, properly understood, she said: The statement lets the university punish those who "threaten, harass or otherwise use their expression in ways that are 'directly incompatible with the functioning of the University.'"
Bonin emphasized to The Fix that the resolution is "not itself explicitly implementing any policies."
It's asserting something that "I believe may be even more important," she said: "a broader commitment to the principles of free speech that would underlie and outlive any written policy."
MORE: UT violates Constitution with policies against 'rude' and 'insensitive' speech
IMAGE: Kristina Yu/Shutterstock
Like The College Fix on Facebook / Follow us on Twitter