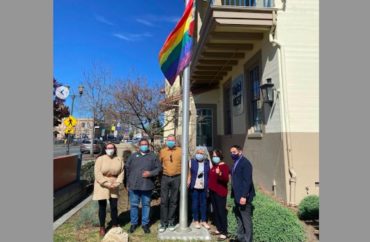 The burnt remains of a LGBTQ pride flag was found last Saturday by (an allegedly gay) student worker at California's Cabrillo College, leading to a 50-person-strong vigil.
The alleged hate crime is the second in as many months at the Aptos, California campus; last month, racist and antisemtitic graffiti was discovered on a campus bathroom wall. Cabrillo officials won't reveal exactly what the graffiti said, however.
Cabrillo President Matt Wetstein said the incident is "deeply upsetting" and his administration "take[s] this matter very seriously," Good Times reports.
"It is especially disturbing, because students love that flag, and several students came to El Patio specifically to take their photo with the flag," Wetstein said.
KSBW reports about 50 people showed up Monday for a (new) flag raising ceremony: a pride flag accompanying the traditional Stars and Stripes. The pride flag will remain hoisted for one month. In attendance was California's first "openly" transgender office holder, Cabrillo Trustee Adam Spickler.
MORE: California teacher tells class to pledge allegiance to gay pride flag
Over the weekend someone burned the Pride flag at @CabrilloCollege in a hate-motivated act of vandalism. @LGBTQPresidents stands in solidarity with our community as it raises a new, larger flag this morning!

— LGBTQ Presidents in Higher Education (@LGBTQPresidents) March 7, 2022
"It definitely felt like a gut punch and the immediacy that it was students…It was LGBTQ students who came to campus and found the flag burned," Spickler said.
Spickler added Cabrillo will "increase events and opportunities to share positive representations of LGBTQ people" and "work to celebrate inclusion in classrooms and on the campus," Lookout Santa Cruz reports.
Cabrillo Trustee Steve Trujillo, who's openly gay, essentially proved the incident to be a total outlier (if it's not revealed to be a hoax) by noting he ran for his position by being frank about his sexuality — and was told he'd never get elected. "Well, guess what? I'm here," he said.
Indeed, Cabrillo appears to be quite the tolerant campus as it reported zero hate incidents in 2020, and only one each for the two years before that.
Read the Good Times and KSBW articles.
MORE: Gay pride flag replaced by Confederate flag at Virginia Tech
IMAGE: Cabrillo College/Instagram
Like The College Fix on Facebook / Follow us on Twitter