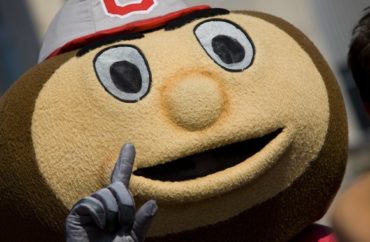 It's all for the children, university insists
You may have heard of Ohio State University's recent application to trademark the word "The," as in "The Ohio State University," the taxpayer-funded entity's self-important way of referring to itself.
It was quickly mocked by legal experts. But there's nothing funny about Ohio State's jihadist zeal to protect its trademark against … bakers.
Indeed, it's not just government bureaucrats that threaten to drive cake artists out of business for refusing to violate their consciences, or private actors who try to destroy bakeries for protecting their merchandise.
It's other government bureaucrats who silence and extort bakers in order to widen the intellectual property revenue stream.
The Columbus Dispatch has an eye-opening feature on the eggshells that local bakers must not crack into their cakes when customers request Ohio State Buckeyes-themed sweets for football season:
Commercial bakers aren't supposed to festoon their goods with OSU imagery unless they pay a licensing fee for approved images, or go through another vendor who is licensed and can legally supply the templates and artwork.

"We're very, very careful, because our products get photographed and put on social media," said Elaine Clarke of Schneider's Bakery in downtown Westerville. "There was a time when I called to inquire about the parameters for Block O and I got an immediate response, and it was very adamant."
Another bakery, Piece of Cake, will still make "small-b" buckeye cakes that refer to Ohio's moniker without any trappings that could be confused with OSU. But Resch's Bakery refuses to make a custom Buckeyes cake "because it's a $10,000 fine," according to owner Frank Resch. "I don't know what's legal and what's not, and I don't have the time to figure it out."
MORE: Supreme Court trademark ruling threatens campus speech codes
If you don't want OSU's lawyer mafia knocking down your door and dragging you into court, you need to give them a taste:
The Original Goodie Shop in Upper Arlington decided a few years ago to work directly with Ohio State to obtain licensing for a line of baked goods, co-owner Emilie Smith said.

The bakery pays about $600 a year and gives the university 12% of sales, she said. "Every year we have to renew this, with the fee, and we have to send them every single product that we sell so that they can make sure the quality is there, and so that they can approve the design."
Like The Rev. Lovejoy's hypocritical puritan wife Helen, the university pleads us to think of the children when we object to the legal terror it promises to visit on independent-minded bakers:
In an emailed statement, university spokesman Ben Johnson said, "Trademark and licensing interests generate about $15 million in revenue each year to support the university's students, faculty and staff, and Buckeye fans should know that every time they purchase official Ohio State items, they are supporting student scholarships, libraries and other university initiatives."
You can laugh at Ohio State for trying to trademark "The," an application that's likely to be shot down.
But don't let these fascists off the hook for joining with the odious bureaucrats of Colorado, Oregon, Minnesota and Washington to threaten the livelihoods of artisans for practicing their craft as they wish – and then claiming it's for the benefit of society.
MORE: Public university claims trademark infringement to silence criticism
IMAGE: aceshot1/Shutterstock
Like The College Fix on Facebook / Follow us on Twitter