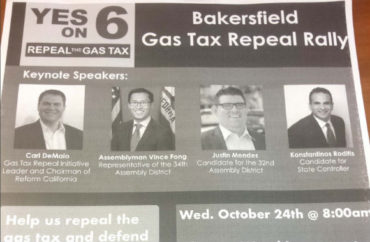 Agrees to junk policy that bans flyers that are not 'appropriate'
Public universities are obligated to comply with the First Amendment, but often they have to be legally threatened in order to follow through.
The Foundation for Individual Rights in Education put the fear of litigation into California State University-Bakersfield after the taxpayer-funded institution blocked a student from posting flyers in support of Proposition 6, which would lower gas taxes. (Prop 6 failed in yesterday's election.)
The university has now agreed to rescind the policy under which administrators can unconstitutionally restrict the political speech of students, according to Adam Steinbaugh, director of FIRE's Individual Rights Defense Program.
Student Tristan Wieser had already received approval to post the flyers in one permitted area when an administrator blocked him from posting them in another permitted area, Steinbaugh wrote to President Lynnette Zelezny in an Oct. 19 warning letter.
Director of Campus Programming Emily Poole (left) told him that because the flyer concerned advocacy related to a "specific proposition," it couldn't be approved. She suggested trying again with a flyer for a "public forum or event."
But when Wieser returned with a flyer for an Oct. 24 "Gas Tax Repeal Rally" featuring the university's congressman, Poole rejected him again because "the event would not present perspectives opposed to Proposition 6."
Poole's office gave the student its posting guidelines, which ban materials that are "not deemed appropriate (language, image, alcohol promotion, etc.)" and political materials that don't promote "a specific event." All materials must be approved in advance, and violating the guidelines "will result in disciplinary action" and "may constitute a misdemeanor."
These rules are flatly unconstitutional, Steinbaugh told President Zelezny, giving administrators unfettered authority to determine not only what is not "appropriate" but what is "politically related":
The lack of definition grants administrators the ability to draw lines based on their own views or perceptions about the merit of the expression. Left unclear is whether "political" material encompasses matters or speakers only if they are on a ballot, or whether it also prohibits material that mentions issues or policies likely to be impacted by political processes. If the rule is predicated on whether a candidate, proposition, or issue is on a ballot, how far in advance of an election are those matters deemed sufficiently "political" to be proscribed under the university's policy?
Poole engaged in viewpoint discrimination – and even violated the university's own rules – by banning flyers for the Prop 6 rally on the grounds that it doesn't promote "multiple perspectives," he wrote.
Cal State-Bakersfield isn't even consistently applying its own rules on politically related materials, a problem made worse because "three different offices" and multiple staff in each office can judge submitted flyers, Steinbaugh continued.
It hosted a "community conversation" on marijuana policy Oct. 18, "an event promoted through posters approved for display on campus":
This is, of course, wholly unobjectionable; a university should facilitate discourse for the community in which it sits. But to deny students and faculty the right to speak about such matters in the absence of an "event" or university sponsorship, as CSU Bakersfield's policy does, is to violate the First Amendment.
Steinbaugh warned the president that FIRE was "committed to using all of the resources at our disposal to see this matter through to a just conclusion," particularly since the Prop 6 rally was only a few days away.
In his Monday blog post, Steinbaugh said the university agreed to reconsider the policy.
"Allowing students to post flyers for or against candidates, parties, or issues will not be seen by reasonable observers to be an endorsement of those views," he wrote. "Vague policies will likely result in censorship of dissenting or unpopular views, speech subjectively disfavored by administrators, or speech that the institution mistakenly believes might jeopardize its tax-exempt status."
MORE: UW-Madison bans flyers questioning its 'Orwellian speech policing'
IMAGES: Foundation for Individual Rights in Eduation, The Runner/YouTube
Like The College Fix on Facebook / Follow us on Twitter