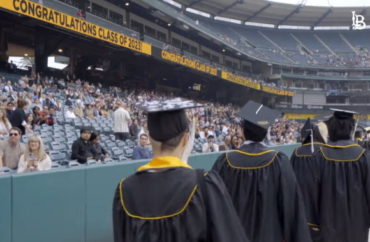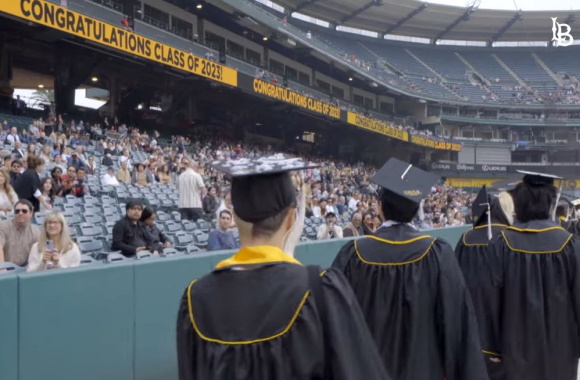 Cal State Long Beach's spring commencement ceremonies did not include a rendition of "The Star-Spangled Banner" among its festivities, recordings of each ceremony show.
The national anthem was not played at its various ceremonies, held in mid-May at Angel Stadium, to honor and celebrate its estimated 15,000 class of 2023 graduates.
The school's alma mater was sung as part of the events. Its mascot, a non-binary shark who uses plural pronouns, was also on hand to wave to the crowds.
Cal State Long Beach in May also hosted nearly a dozen "Cultural Graduation Ceremonies" focused on "American Indian, Black/Pan-African, Cambodian, Chicano/Latino, Lavender, Pacific Islander, Pilipino, Undocumented, Vietnamese and International Students," its website states.
Jim Milbury, a spokesperson for CSULB, told The College Fix in an email Wednesday that "commencement planners have not received concerns about the anthem not being played at our ceremonies."
Milbury added that "as we plan for 2024, we will have internal discussions about whether this component is an appropriate addition."
The public university's decision to not perform "The Star-Spangled Banner" stands in contrast to other large California institutions, such as the University of Southern California and UC Berkeley, both of which included the song this year.
It is considered somewhat of a tradition to include it in commencement ceremonies, Mark Clague, an assistant professor of musicology at the University of Michigan, told The College Fix in an interview.
Clague, author of the book "O Say Can You Hear? A Cultural Biography of the Star Spangled Banner," said its first appearance was in 1874 at the United States Military Academy ceremony.
The song "had special resonance for West Point because of the role its graduates played in leading the Union Army during the U.S. Civil War," he said via email.
The more recent tradition started in 1942 after the attack on Pearl Harbor and America's entrance into World War II, he said. It served as "a signal of unity and national commitment to the war effort," he said.
Clague said the song's meaning and resonance shifts over time, "but it's always a ritual of unity that emphasizes that the nation calls all of its people to service."
Asked why schools may drop the anthem from its commencement ceremonies, Clague suggested school leaders may want to support pacifism. Others may swap it out for "America, the Beautiful," he said.
Cal State Long Beach is not the first Southern California-based institution to omit the song. In 2018, Pomona College made headlines when it did not play the national anthem during its commencement ceremony, breaking from tradition.
Hope College, a private Christian liberal arts school in Michigan, has never played the national anthem at its graduation ceremonies.
Gregory Olgers, a spokesperson for the college, told The Fix that Hope's "practice with its academic and religious ceremonies is to limit musical accompaniment to selections specific to the event of the college."
He said at Hope, officials believe the traditional processional song "Pomp and Circumstance" and the alma mater are the only songs pertinent to the ceremony.
MORE: Cal State Long Beach's new mascot: a non-binary shark who uses plural pronouns
IMAGE: YouTube screenshot
Like The College Fix on Facebook / Follow us on Twitter