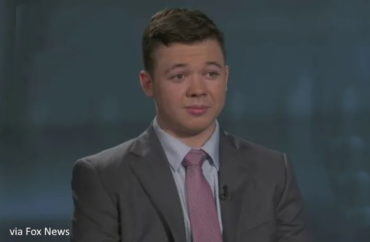 Noting "Counseling and Psychological Services staff will be present," California State University, Long Beach Dean of Students Piya Bose invited faculty and students to take part in a "debriefing" of last week's verdict that found teenager Kyle Rittenhouse not guilty on all charges after shooting three protesters during rioting in Kenosha, Wisconsin, last year.
The event took place Monday afternoon online.
"When there are higher-profile events and issues in the public discourse, it is not uncommon for our university to provide spaces for our campus community to discuss those topics," said school spokesman Jim Milbury in an email to The College Fix.
Milbury said the forum is "unstructured," and set to be hosted by team members from the school's Student Affairs Division.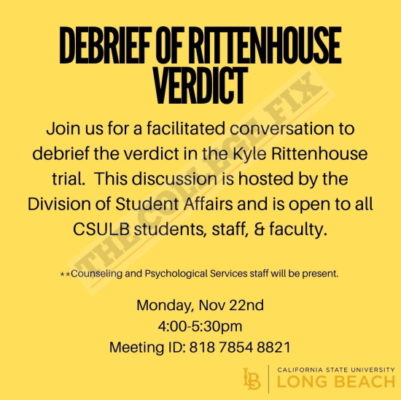 The Kenosha jury found that Rittenhouse, then 17-years-old, was acting in self-defense when he shot three white protesters, killing two of them. The protests were the result of the shooting of Kenosha man Jacob Blake, who police had fired upon after they believed he was reaching into his car for a knife.
Even though the protesters shot by Rittenhouse were white, activists have nonetheless argued his presence at the Kenosha riots was a sign of his white supremacy.
Over the weekend, controversial Rutgers University professor Brittney Cooper said the Rittenhouse verdict was a sign of "which version of whiteness" America wants. When discussing the fact that the men Rittenhouse shot were white, she said there "have always been white victims of white supremacy."
At Fitchburg State University in Massachusetts, administrators scheduled "virtual and in-person physical" spaces for students who needed to process the Rittenhouse verdict. The spaces are segregated by the students' color, with white and students of color being asked to attend separate "processing spaces."
At New York University, Dean Neil Guterman issued a statement saying the school's social work scholars, teachers, and learners "stand in solidarity with those protesting against racial injustice, and share the pain at the outcome of the trial of Kyle Rittenhouse."
"I am thinking of you all as we process this latest injustice and redouble our commitment to advance social justice and racial equity," wrote Guterman, inviting students to call a hotline if they need to talk to a counselor.
CSU Long Beach Dean of Students Piya Bose did not respond to a request by The College Fix to comment for this story.
ALERT: Check out our new Campus Cancel Culture Database!
IMAGE: Fox News screenshot
Like The College Fix on Facebook / Follow us on Twitter