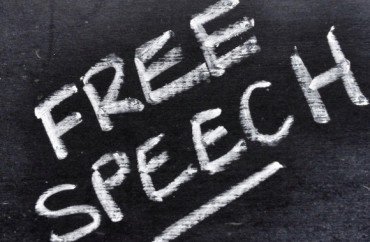 Legislature asks public and private universities to adopt free speech statements
California lawmakers have passed a bipartisan resolution calling on both public and private universities in the state to take strong stances in support of the First Amendment rights of their students, asking administrators to ensure their campuses possess "the broadest possible latitude to speak, write, listen, challenge, and learn."
The resolution, passed last month by unanimous vote, encourages colleges to base campus speech policy off the "Free Expression Statement" (also known as the "Chicago Statement") adopted two years ago by the University of Chicago, as well as the "Rights of Free Speech and Academic Freedom" statement authored last year by UC Irvine Chancellor Howard Gillman.
The resolution comes months after the University of California was rocked by a violent anti-speech riot protesting controversial conservative Milo Yiannapoulos at UC Berkeley.
California representatives Kevin Kiley, a Republican, and Bill Quirk, a Democrat, co-sponsored the resolution, titled "Assembly Concurrent Resolution No. 21." It passed California's assembly by a vote of 79-0 and the state senate 39-0.
William Kolkey, chief of staff to Assemblyman Kiley, told The College Fix via Facebook: "With the passage of 'Assembly Concurrent Resolution 21,' California has become the second state in the country to endorse the Chicago Statement on Free Expression. Over the months ahead we look forward to working with universities to reaffirm their commitment to freedom of speech as a foundational campus value."
The bill quotes several notable figures in defense of free speech, including former United States president Barack Obama and University of California president Janet Napolitano.
The Fix reached out repeatedly to Janet Napolitano's office for comment but received no response.
Napolitano previously defended free speech in a 2016 op-ed in The Boston Globe.
"The way to deal with extreme, unfounded speech," she argued at the time, "is not with less speech — it is with more speech, informed by facts and persuasive argument. Educating students from an informed 'more speech' approach as opposed to silencing an objectionable speaker should be one of academia's key roles."
Writing last September, Chancellor Gillman told the UC Irvine community: "Free speech requires us to accept that we will be exposed to viewpoints, arguments or forms of expression that make us uncomfortable or even offend us. It is in precisely these circumstances that free speech often serves its most vital purpose, especially in an educational context."
Carol Christ, the chancellor of the University of California, Berkeley, recently expressed strong support for free speech and free expression on Berkeley's campus.
The University of Chicago has also made headlines in the past year for its sustained commitment to free expression.
Last September John Ellison, the school's dean of students, wrote a letter to the incoming freshman class of 2020 affirming that the university "[does] not support so-called 'trigger warnings,' we do not cancel invited speakers because their topics might prove controversial, and we do not condone the creation of intellectual 'safe spaces' where individuals can retreat from ideas and perspectives at odds with their own."
MORE: University of Chicago releases sweeping free-speech statement
MORE: Campus free-speech group denied recognition after it hosts 'Can We Take a Joke?' screening
IMAGE: Shutterstock
Like The College Fix on Facebook / Follow us on Twitter