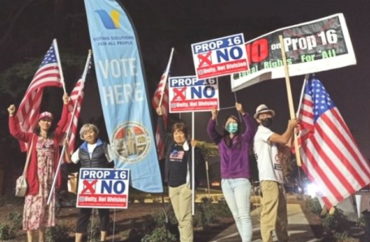 California voters have spoken — a majority do not want public hiring and college enrollment decisions to be based on the color of a person's skin.
Proposition 16, a ballot measure that sought to amend the California Constitution to allow the state's public entities the right to discriminate based on race, has been overwhelmingly defeated.
As of Wednesday morning, Prop. 16 was being rejected by a margin of 56.1 percent to 43.9 percent with 99 percent of precincts reporting, according to the California Secretary of State's online election results. Over 11 million votes were cast.
The measure, had it been approved, would have overturned Proposition 209, a 1996 amendment to the California Constitution that prohibited considering race, sex or ethnicity in public employment, public contracting and public education.
"The measure failed despite the fact that supporters of Prop 16 outraised their opponents by a margin of nearly 20-1 and enjoyed support from some of the most prominent names in Silicon Valley," the Foundation for Economic Education noted in reporting on the vote outcome.
Proponents of the measure had argued it aimed to address systemic racism. The opponents' slogan was: "Equal rights and opportunity regardless of race or national origin!"
MORE: Study claims affirmative action ban hurt minorities, but won't release data
IMAGE: Facebook screenshot / Equal Rights California
Like The College Fix on Facebook / Follow us on Twitter