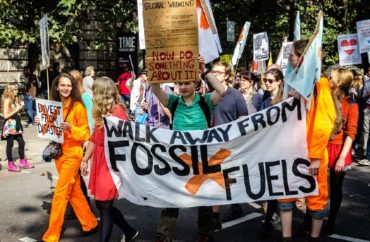 Administration ignored a question about conservative group participation
College students in California will have the opportunity to earn $10,000 toward school under a new service program.
The #CaliforniansForAll College Corps "will provide up to 6,500 college students with opportunities to support and learn from organizations working in three priority areas: K-12 Education, Climate Action and Food Insecurity," according to California Volunteers.
California Volunteers is housed within Governor Gavin Newsom's office. Student participants will receive a $7,000 living allowance and a $3,000 educational grant for a year of work. Nearly $6 million has been allocated so far for students who work on climate change activism.
Cal Poly in San Luis Obispo will work with California State University Long Beach, Cuesta College, and Allan Hancock College to host a climate change consortium.
The colleges will host the Coastal California Civic Leadership Consortium and have received $5.9 million in funding for an initial class of 315 fellows. Another $4.7 million will be available the following year for 315 fellows.
"The consortium will focus its service-learning model on K-12 education, climate action, and food insecurity," the university stated in a news release.
The Fix reached out to Matt Lazier, media relations director with Cal Poly, to inquire about what specifically the institution planned to ask the paid volunteers regarding the climate change consortium, how volunteers would be chosen and what the guidelines of participating are. He directed The Fix to the initial news release.
MORE: Newsom proposes $20 million in financial aid for abortionists
"Note that while climate action is one of the areas in which participating students will be volunteering, it is not the only one," Lazier said.
"It's too early for us to be able to talk about how students will be accepted into the program," Lazier said. "It was just announced a couple of weeks ago, and many details are still being worked out."
A spokesperson for California Volunteers did not answer questions from The College Fix about if there were any safeguards in place to ensure students are not being paid to promote a political agenda.
Julie Goggins, communications & external affairs project manager, also did not provide a list of approved and rejected partner organizations. "Campuses are currently in the process of selecting community host organizations," she said.
The College Fix specifically asked if student groups such as Turning Point USA or College Republicans could participate and have students paid to promote capitalism or the Constitution. She did not directly address this question.
"The #CaliforniansForAll College Corps is a comprehensive college service program deeply rooted in community engagement," Goggins told The Fix via email. "Each partner campus will select community host organizations where Fellows will be placed to perform service activities to meet local priorities."
Participating nonprofit and governmental organizations must be in one of the three focus areas and host at least two fellows.
"The #CaliforniansForAll College Corps is a nonpartisan service program," Goggins said. "The participating College Corps campuses represent both the geographical and cultural diversity of California. College Corps Fellows will serve to address local priorities in key focus areas, determined by the communities in which they will serve."
She referred The Fix to a list of 45 public, private and community colleges selected to participate on the California Volunteer website.
One criteria listed is a "compelling recruitment strategy with a particular focus on low income students and Dreamers," referring to students who were brought to the United States illegally by their parents.
The Fix asked conservative Alliance Defending Freedom for comments on the possible legal problems posed by taxpayer funds being used to pay college students to promote issues aligned with the governor's political agenda. The College Fix also asked if such programs had to be open to all causes, such as pro-life and right-leaning issues. The nonprofit legal group declined to comment.
MORE: 200 people turn out for climate change realism discussion
IMAGE: Garry Knight/Flickr
Like The College Fix on Facebook / Follow us on Twitter