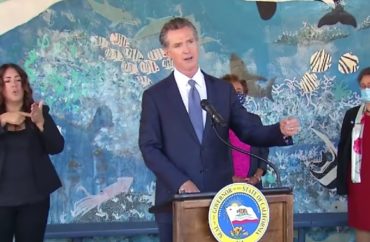 Idea came from California's 'Future of Abortion Council'
California Governor Gavin Newsom wants to help current and aspiring abortionists by providing $20 million student loan forgiveness and scholarships.
The summary of his proposed budget asks for $20 million in "scholarships and loan repayments to a variety of health care provider types that commit to providing reproductive health care services."
The idea came from a December 2021 report from the state's "Future of Abortion Council."
The Golden State must "[i]mprove the education pipeline by creating a California Reproductive Scholarship Corps, open to those training as physicians, nurse practitioners, certified nurse-midwives, physician assistants, and in other health care professions with diverse and/or rural backgrounds dedicated to providing abortion care in underserved areas in California," the report said.
It proposed a repayment of loans to "increase retention and recruitment of clinicians who provide abortion by allocating funds for health care workforce programs."
"This is part of California's plan to become a 'sanctuary' state for abortions, meaning it will still permit abortions regardless of federal law," Insider reported.
A Students for Life of America spokesperson called the proposal "macabre."
"Newsom's macabre fascination with all things abortion might mean a slogan is on the way, 'Who's Dying to get out of California?'" Kristi Hamrick told The College Fix via email. "Prioritizing ending the lives of the innocent while the state is in chaos is both a mistake and a human rights tragedy."
State universities are currently preparing to begin dispensing chemical abortion drugs such as the RU-486 combination. A state law requires all four-year public colleges in the state to provide the drugs through campus health centers.
"The COVID-19 pandemic has not deterred or impacted implementation planning," a spokesperson for the California State University chancellor's office told The Fix last year.
MORE: Students demand school cancel pro-life speech by Matt Walsh
IMAGE: Politico/YouTube
Like The College Fix on Facebook / Follow us on Twitter