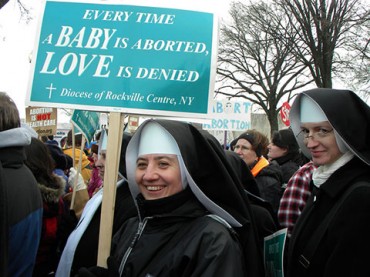 The California agency responsible for regulating health insurance plans said it botched state law by approving plans that were tailored for two Jesuit universities.
Under newly interpreted state regulations, insurers for Santa Clara University and Loyola Marymount University must only offer health plans that cover all abortions, rather than plans that don't cover "elective" abortions – those deemed medically unnecessary.
Pro-life groups are rallying behind the schools, telling Congress that California is violating federal law that says states can't receive certain federal funds if they penalize health plans for not covering abortion.
The universities had forged deals allowing employees to pay for abortions through a third party, according to the Associated Press. Loyola's plan took effect Jan. 1 and Santa Clara's was scheduled to go into effect this upcoming Jan. 1.
The California Department of Managed Care approved the arrangement in 2012 but started backtracking after pro-choice groups complained, as The College Fix noted.
The department sent letters on Friday to Anthem Blue Cross and Kaiser Permanente, the insurance carriers for the schools, and five other insurers stating that "some" of their plans "contain language that may discriminate against women by limiting or excluding coverage for termination of pregnancies."
The letters don't mention any institution or the religious justification for excluding some abortions from coverage. Director Michelle Rouillard simply told insurers that her agency "has reviewed the relevant legal authorities and has concluded that it erroneously approved or did not object to such discriminatory language in some" plans that cover "a very small fraction of California health plan enrollees."
State law dating to 1975 "requires the provision of basic health care services" – which include abortion – and the state constitution "prohibits health plans from discriminating against women who choose to terminate a pregnancy," the letters say. The health insurers cannot exclude coverage for "voluntary" or "elective" abortions or cover only "therapeutic" or "medically necessary" abortions.
In a footnote, however, the letters state that "no individual health care provider, religiously sponsored health carrier, or health care facility may be required by law or contract in any circumstance to participate in the provision of or payment for a specific service if they object to doing so for reason of conscience or religion."
Congress and HHS Must Intervene, Pro-Life Groups Say
The idea that all abortions are "medically necessary," as the state claims, is a "self‐evidently false proposition," the Life Legal Defense Foundation and Alliance Defending Freedom, on behalf of the Cardinal Newman Society, told Rouillard in a letter.
The state constitution only "prohibits the state from discriminating against women who choose to terminate a pregnancy," not private employers, and a part of federal law known as the Weldon Amendment prohibits states from getting federal funds if they discriminate against insurance providers for not covering abortion, the letter said.
California itself tried and failed to get the Weldon Amendment overturned in court, admitting that "all of its departments are subject" to the amendment because they get more than $40 billion in federal funds for "education, health, and employment" programs, the letter notes.
The groups distributed the letter to influential California Republicans in Congress – House Oversight Committee Chairman Darrell Issa and House Majority Leader Kevin McCarthy – as well as Rep. Chris Smith of New Jersey, former head of the New Jersey Right to Life Committee.
Unless California reverses its decision, the groups are "prepared to file complaints" with the Department of Health and Human Services' Office of Civil Rights, the letter said.
Professor: Socially Liberal Santa Clara Has to Draw the Line Somewhere
Faculty seem divided over the issue.
"This is not just confirming and clarifying that this is a right we have, but by having comprehensive health insurance, it includes a woman's right to have an abortion without any qualifiers," Nancy Unger, a Santa Clara professor, told the San Jose Mercury News.
But in a January 2013 op-ed in the Mercury News, Santa Clara religious studies professor David DeCosse backed President Michael Engh's decision to phase out coverage of elective abortions.
Santa Clara, unlike other Jesuit schools, hadn't fought the Obama administration's contraceptive mandate, it has provided "full support for gay and lesbian married employees" and it would continue covering abortions sought for "mental health" reasons, DeCosse said.
But the school must draw a line somewhere, and Engh's decision "stands in line with Catholic opposition to elective abortion dating from the first centuries of the common era," DeCosse said. "And it bears witness to the hope of a religious tradition that got its start from a poor, unwed, pregnant teenager."
College Fix contributor Matt Lamb is a student at Loyola University-Chicago.
Like The College Fix on Facebook / Follow us on Twitter
IMAGES: Talk Radio News Service/Flickr, Michael Zimmer/Flickr