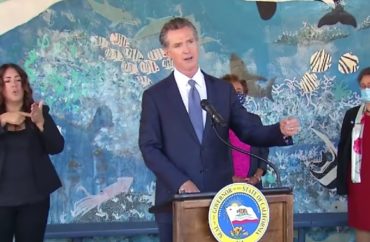 The Democratic governor's popularity is dropping, according to a recent poll
As voters consider their options ahead of the September California governor recall election, two Cal Berkeley law professors have written an opinion piece that attempts to discredit the validity of the race.
Erwin Chemerinsky and Aaron Edlin said:
The most basic principles of democracy are that the candidate who gets the most votes is elected and that every voter gets an equal say in an election's outcome. The California system for voting in a recall election violates these principles and should be declared unconstitutional.
Voters first are asked if Governor Gavin Newsom should be recalled or not. If a majority of voters vote to keep Newsom, then he remains as governor. Otherwise, voters then pick from all other candidates on the ballot.
"Many focus on how unfair this structure is to the governor, but consider instead how unfair it is to the voters who support him," the two professors wrote in their New York Times essay.
"It is unconstitutional," they argued. "It violates a core constitutional principle that has been followed for over 60 years: Every voter should have an equal ability to influence the outcome of the election."
They want a "state or federal lawsuit will be brought challenging the recall election" or for election officials to change the ballot to include Newsom's name.
A recent poll of over 1000 California voters found that more than half wanted Newsom recalled.
George Washington University law professor skeptical
Jonathan Turley, a law professor at George Washington University, responded to the essay on his own website.
"On the second vote, Newsom is not a candidate because the majority of voters decided that they want him out of office," he said, in an explanation of why the Newsom supporters are not unconstitutionally robbed of their right to vote. "They did so knowing that they would then have to vote for someone else in the second vote."
"I do not see the clear or even compelling basis for declaring the recall system unconstitutional on that ground," Turley said.
He explained further:
The essay suggests that, since the losing voters in the first round would prefer Newsom to the alternatives, their votes are being watered down or curtailed. However, they lost that first vote and those same voters then fractured due to the large number of alternative candidates. They still voted and their votes still were weighed the same.
Turley concluded by questioning why the pair of professors do not challenge the law themselves.
"Of course, if these professors believe (as they state) that this is a relatively easy constitutional question, they should challenge the law," the GWU professor said. "It may prove neither a close nor a viable constitutional question."
MORE: California students rally against Newsom sports limits
IMAGE: Politico/YouTube
Like The College Fix on Facebook / Follow us on Twitter