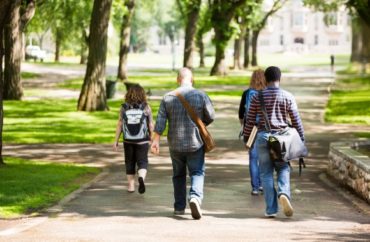 Cal Poly San Luis Obispo works on massive diversity and inclusion effort
In keeping with the diversity and inclusion movement sweeping campuses across the country, Cal Poly San Luis Obispo recently released a 30-page report outlining plans to "improve diversity" via a series of initiatives.
One goal is to increase the number of people of color on campus beyond the increases that have already occurred over the past few years, as "applications from underrepresented minority students doubled between 2008 and 2018."
"In 2011, the campus was 63 percent Caucasian," the May 2 report informs readers, "in fall of 2017, it was less than 55 percent … but there is still much work to do."
The public research institution states it wishes to get those numbers more in line with the state's percentage of white people, which recent polls hold at 39.7 percent of the population.
MORE: At public university in California, only 13 percent of students are white
"To further advance its goals of reflecting the demographics of California and creating a more diverse and inclusive campus community, Cal Poly administration has developed the following Diversity Action Initiatives document," the report states.
In it, administration details a multi-year effort with dozens of intitiatives, including ones to further lower the percentage of white students on campus and increase the number of faculty of color.
For students, the school plans on recruiting applicants more heavily based on race. For instance, the school has recently implemented several new scholarships "aimed at recruiting more African-American and other underrepresented minorities." It's also working to recruit low-income and first-generation students by partnering with high schools that enroll a high percentage of these students, according to the report.
Cal Poly SLO has eliminated applicants' ability to apply to the school in Early Decision since the process, according to the report, "disadvantaged low-income students." All applicants, regardless of their level of interest in the school, are viewed in one big pool in regular decision admissions.
And the college announced its intention of forcibly increasing diversity in "traditionally male-dominated majors" such as STEM and Architecture and Environmental Design, according to the document.
For faculty, the university states diversity will be a criterion considered in cluster hiring faculty "every other year." And the university has received $150,000 from the Cal State University system "for a cluster hire of up to 10 faculty positions that focus on diversity and inclusion in a variety of scholarly areas throughout the university's six colleges."
This fall campus leaders will "require a diversity statement from candidates for all faculty and staff searches," the report states. It adds that search committees will now be made up of diverse membership and Academic Affairs has "set [an] expectation that search committees will be based on best practices regarding diversity."
Meanwhile, many initiatives remain in the offing.
For instance, the document calls for the implementation of a "pre-enrollment diversity training for new first-year and transfer students." This "diversity training" will be in addition to the two mandatory orientation programs — "SLO Days" and "Weeks of Welcome."
Additionally, "Poly Reps"—the Cal Poly ambassadors who provide campus tours to potential applicants—must now receive mandatory diversity training. Spokesperson Matt Lazier tells The College Fix "unconscious biases could inadvertently come into play" when they gave tours.
MORE: University to host 'whiteness in decline' event
IMAGE: Tyler Olson/Shutterstock
Like The College Fix on Facebook / Follow us on Twitter