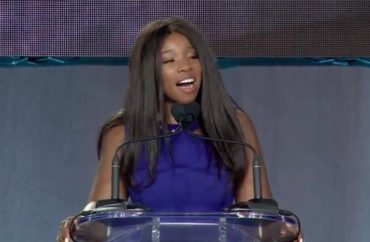 'I know our work wasn't in vain'
The COVID-19 pandemic has halted activities on campuses nationwide, with most colleges and universities shutting down their grounds and sending their students home to do distance education for the remainder of the semester. Yet some campus activists are continuing their efforts even during the shutdowns, preparing for the inevitable reopening campuses with digital training and outreach.
Antonia Okafor Cover, the director of outreach for Gun Owners of America as well as the founder of the women's campus carry group EmPOWERed, said she and her colleagues have continued their efforts to "make sure that campus carry…is available to all students in every state."
"Before the lockdowns due to the COVID-19 outbreak, our soft launch of our new student group already was on the path of major success. This March we organized students and non-students alike at our constitutional and campus carry rally in Nashville. Students from all over the state came to lobby to help pass the Tennessee campus carry bill," she told The College Fix.
Currently, Cover said, the Tennessee legislature only permits faculty to carry concealed weapons on campus. The lobbying effort in March, she added, was a major success.
"We had legislators commending the students for their advocacy. Many of them even told us that in the decades they have been in office, they had never seen so much activism at the capitol from a pro 2A student group." She said Gun Owners of America "aim[s] to make our students primarily activists and educators on the Second Amendment."
March, of course, was when most U.S. states began shutting down, closing businesses and college campuses, curtailing travel and assembly rights, and ordering residents to stay in their homes. The Tennessee legislature subsequently decided to end its session early and postpone its votes on several proposed gun rights bills until next year.
"That's the thing about advocacy–things don't always go your way, despite all the hard work you put into it," Cover said. "It was a sharp blow to many of the students who worked so hard for that moment. I was even set to testify on behalf of Gun Owners of America that same week."
"But I know our work wasn't in vain," she added. She said the group has made significant progress in recruiting student-activists and establishing relationships with friendly legislators. Gun Owners of America is now looking toward the fall semester as its next front in its fight.
"We plan to still roll out our student outreach group in the fall. Most of the work done during this age of coronavirus has been working on the back end. Making sure constitution templates are written, building a base of well-trained student leaders, and perfecting our advocacy program and curriculum," she said.
"But at the end of the day, we need to be with students to implement any of that so we are hopeful that life will be somewhat back to normal by this fall. At the end of the day its about persistence. And we need to build that skill in college students now so they can be effective leaders for change in the years to come."
If most schools don't reopen in the spring, Cover said, then her group plans to mount a significant digital campaign. "We will hold conferences and training via Zoom and make sure we have a very well oiled machine of a group that is ready to go full speed in the Spring. Also, since state government sessions will start opening in the Spring then we will focus more on helping students learn the skills needed to be better advocates for the advancement and preservation of the Second Amendment."
Cover stressed the importance of activists actually acting on their beliefs instead of simply sitting back.
"It's one thing to believe in the Second Amendment, it's another to engage those people to change things for the better," she said.
MORE: Women's gun group highlights the popularity of Texas campus carry
MORE: Citing 'risk,' college cancels gun activist's speech hours before it begins
IMAGE: Centennial Institute / YouTube.com
Like The College Fix on Facebook / Follow us on Twitter