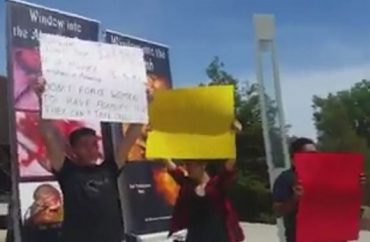 Images of aborted fetuses were blocked by several student government leaders at UC Merced recently as a form of protest against the display and to shield the sight from their constituents.
Several elected members of the Associated Students of UC Merced and others students used their bodies and makeshift signs to partially obstruct the large, graphic pro-life display on campus last week.
A pro-life group called "Project Truth" brought the display to campus. It is a group of activists who visit campuses to teach students about abortion by displaying shocking images of aborted fetuses.
The activists engaged students in conversations by asking "what do you think of our display?" videos of the protest show. But the graphic display was too much for some students, who formed the makeshift barricade.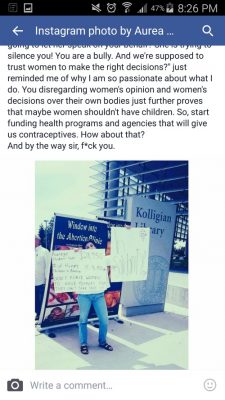 Some signs read "women's body, women's choice," "don't force women to have babies they can't take care of," and "making abortion illegal doesn't stop abortions, it stops safe abortions."
The counter protest had formed after students began posting online about the display and rallying others on social media.
RELATED: Pro-Abortion UGA Students Build Wall Blocking Graphic Pro-Life Campus Display
Student Sen. Hunter Drobenaire told The College Fix the protest was meant "to simply block the grotesque, shock-value images that was depicted on Scholar's Lane that many students pass by every hour."
He added these images "may have triggered students to become disgruntled and kept them in circular conversations that achieved almost nothing except for further discrepancies and even arguments that resulted in students yelling at the demonstrators."
Sen. Drobenaire said that although he feels he did not represent all students on campus with his actions, he added "I can say that we had support and representation from all three government branches, as well as other student demonstrators, which goes to show that many other students had an issue with the anti-abortion demonstrators on our campus."
It is unclear if any members of the student government are openly pro-life. Pro-life campus groups, meanwhile, did not engage at last week's event.
External Vice President Phil Coba, who also took part in the counterprotest, told The College Fix that "while I may also be an EVP, I am entitled to my own opinion." He said he did not personally block the images with his sign.
The campus police showed up as well. It appears they were called in an effort to prevent the possibility of an outbreak of violence between the two groups.
Yet videos show the Project Truth activists were largely just interested in engaging in conversations with students in an apparent attempt to poke holes in their pro-choice stances. The pro-lifers also engaged students on the topic of evolution.
For example, a male student and "Don" from Project Truth had a conversation about evolution when it abruptly got interrupted by a court justice of the student government, Aurea Bolanos, a video taken at the event shows.
Bolanos proceeded to debate the pro-life activist in an exchange that remained civil although heated. The activist pointed out Bolanos says "trust women" — but doesn't trust the students to make their own decisions about abortion by blocking the pro-life display.
Project Truth was on campus April 25 and 26. The counter protest attracted several dozen students and occurred on Tuesday at around 12:30 p.m. until around 2:30 p.m., when Project Truth eventually left.
RELATED: As mass of millennials march for life, topless and rowdy counter-protesters dissent
Like The College Fix on Facebook / Follow us on Twitter