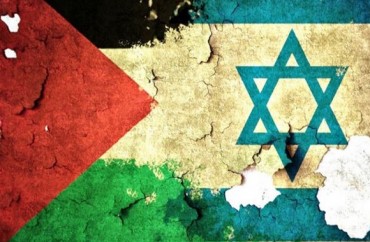 Even the massacre of 11 people at the Tree of Life Synagogue in Pittsburgh cannot be memorialized on campus without provocation.
"A mural at Pomona College that reads 'Antisemitism exists. Acknowledge it' in remembrance of the deadliest attack in American Jewish history has been defaced at least twice," the Jewish News Syndicate reports.
According to the Claremont Independent, "the original mural on Walker Wall in response to the October Pittsburgh synagogue shooting consisted of multiple Stars of David along with the message 'Antisemitism exists. Acknowledge it.'"
The wall is known as a free speech area and students can and do paint over it. Nevertheless, the memorial to the massacre victims was quickly covered. Students soon restored the original message, but that one didn't last long, either.
"[T]his week, sections of the message were covered with painting of the Palestinian flag and the accompanying message 'Palestine exists. Acknowledge it,'" the Claremont Independent reported Friday.
Senior Hallie Goldstein the Jewish News Syndicate that "the biggest problem is that aside from a handful of outraged Jewish students, nobody is talking about this. Not our administrations, not our school newspapers, not our campus minority groups; no one.
"What stings the most is that whenever any other minority group is targeted in some way, all five of our colleges are buzzing with conversation, with statements of condemnation, with student-written articles and with support resources," she told JNS. "However, it is [always] a double standard whenever Jews are the subject of a hate crime or discriminatory act."
The Claremont Colleges' chapter of Students for Justice in Palestine has condemned the painting over of the Jewish memorial, stating on its Facebook page "we stand proudly with our Jewish siblings."
Read the Claremont Independent report and the Jewish News Syndicate report.
MORE: Faculty vote to suspend school's study abroad program in Israel
Like The College Fix on Facebook / Follow us on Twitter