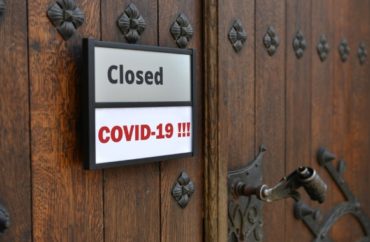 Came after minor increase in COVID cases
A Catholic chaplain and a lay campus minister at the University of Chicago ordered Catholic students not to attend Mass at a nearby church and also barred reception of the Eucharist after a minor spike in COVID.
The university had a stay at home order, in practice a lockdown and return to remote learning, after a small increase in the number of COVID cases on campus. The bishop of the Archdiocese of Chicago, Cardinal Blase Cupich, "ordered the campus church to cancel Mass for students," according to The Chicago Thinker. The order has since been lifted, but problems still remain.
Evita Duffy, the managing editor at the conservative publication, explained:
Per Cupich's directive, Calvert House Chaplain Fr. Andrew Liaugminas and Associate Director of Campus Ministry Matthew Moran agreed to bar students from the Eucharist. Moran wrote the following in an April 16 email to undergrads: "Recognizing that most of our congregation is affiliated with the University, the Archdiocese has asked us to refrain from all in-person liturgies and events while the special measures are in force."
The campus ministry team at the Calvert House, which is the Catholic center on campus, also told students not to attend St. Thomas the Apostle, a nearby parish in Chicago's Hyde Park neighborhood.
"Not only did the bishop cancel Mass for students on campus, but he instructed them not to attend anywhere else," Duffy said.
Leaders overreact to a few more people getting COVID
The pretense for the university's closure and the cardinal's orders was a supposed "outbreak" of COVID.
The "biggest COVID-19 outbreak yet," according to CBS 2, involved 50 positive cases in a two-day period in early April at the private university.
Fourteen months into this, I still have to provide context for reports of outbreaks, albeit sarcastically.
The massive, enormous and dangerous outbreak skyrocketed the test positivity rate from .3 percent to a whopping, massive Bubonic plague 1 percent case positivity rate level, according to the university's COVID dashboard.
The campus, now teeming with infected degenerates, has a .25 percent positivity rate for students and .13 percent for staff. There are about 4,500 to 5000 students and staff tested regularly.
Notably, the email from the Catholic ministry team did not tell students who had experienced symptoms not to attend Mass, nor instruct students who had recently been exposed to someone with COVID.
Everyone had to avoid Mass. And even now, there is a de facto prohibition on some people attending Mass.
"Calvert House makes it as difficult as possible for students to attend Mass by forcing them to sign up in advance and imposing strict capacity limits and social distancing," Duffy said.
"Students are turned away if they fail to sign up for Mass and the chapel is at capacity," according to the conservative student.
MORE: Loyola's 101-year-old basketball chaplain attends March Madness in person
IMAGES: Ansis Klucis/Shutterstock; University of Chicago website
Like The College Fix on Facebook / Follow us on Twitter