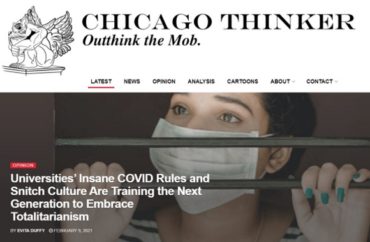 A group of conservative and libertarian students at the University of Chicago have recently launched the Chicago Thinker, an online news and opinion publication that aims to exercise and uphold the values of the school's famous free speech Chicago Principles.
"We demand not to be coddled," its editors state on their about page.
"Embracing the experience of unfettered inquiry and free expression is precisely the point of these years of intense study: to rigorously confront and challenge our most deeply-held beliefs—and to emerge from the experience as more thoughtful, informed human beings."
The Thinker, which put together its staff over the summer and launched in October 2020, publishes news, opinion, analysis, pop culture reviews and cartoons.
Under its guiding Chicago Principles, "the University's fundamental commitment is to the principle that debate or deliberation may not be suppressed because the ideas put forth are thought by some or even by most members of the University community to be offensive, unwise, immoral, or wrong-headed."
But while administrators hold students and professors harmless for their controversial statements, other students contribute to a rising culture of hostility toward unpopular opinions.
The Thinker was inspired in part due to a situation faced in the spring of 2020 by University of Chicago student Evita Duffy, who is the publication's managing editor.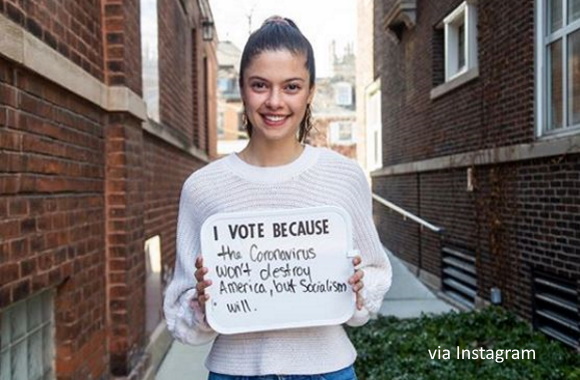 Duffy had stated that "I vote because coronavirus won't destroy America, but socialism will." For that, Duffy received intense backlash and even death threats from fellow students.
This incident helped lead to the idea of creating a space to foster conservative and libertarian discussion, which eventually led to the creation of the Thinker, its editor and publisher Audrey Unverferth told The College Fix.
"We launched this summer because we believed it was time for conservatives and libertarians to speak up on our campus," she said.
"The University of Chicago is renowned for the Chicago Principles, meaning that the school very vehemently defends free speech, but even though those students don't get in trouble for saying the wrong thing on campus, from the administration, they are often penalized for wrongthink by their peers," Unverferth said.
Recent headlines on the Chicago Thinker include: "Riots Are Bad; Principles Are Good"; "Universities' Insane COVID Rules and Snitch Culture Are Training the Next Generation to Embrace Totalitarianism"; and "NYC's de Blasio Problem."
Not all are supportive of the Thinker, however. The Chicago Maroon, the mainstream student newspaper for the University of Chicago, published a column in late December headlined "Fighting Fire With Fire: The Thinker's Thoughtless Approach to Mainstreaming."
In the column, freshman Clark Kovacs describes the Thinker as "heavy-handed" and "inflammatory," citing its strong writing style.
"Strongly committed to combating the effects of liberal hegemony, which they view as leading students to become 'intellectually lazy and incapable of thorough reflection,' members of the Thinker have written with palpable aggression."
"Yet this aggression has completely failed to integrate their voices into common spaces at UChicago––if anything, their heavy-handed, inflammatory approach at integration has furthered the divide between progressives and conservatives on campus. And from speaking to members of the paper, it's clear that nothing will change for the foreseeable future."
Asked by The College Fix how the campus benefits from the diverse political views represented in the Thinker, university spokesman Gerald McSwiggan said the University of Chicago is "deeply committed to upholding the values of academic freedom, the free expression of ideas, and the ability of faculty and students to express a wide range of views."
"We believe universities have an important role as places where novel ideas can be proposed, tested, and debated and where diverse perspectives, experiences, individuals, and ideas inform and stimulate intellectual exchange, challenge, and engagement," he said via email.
MORE: Meet the queer black woman leading the charge for free speech at Princeton
Like The College Fix on Facebook / Follow us on Twitter