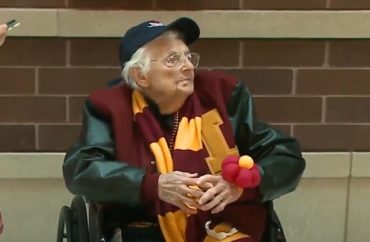 UPDATED
Sister Jean Dolores Schmidt, Loyola University Chicago's 101-year-old men's basketball chaplain, successfully lobbied the university to allow her to attend March Madness in Indianapolis.
The Catholic nun "will be in attendance Friday when the Ramblers open the NCAA tournament against Georgia Tech," ESPN reported.
Sister Jean rose to prominence in 2018 during Loyola's improbable Final Four run. She has not been able to attend games this season and has remained off of campus since March 2020.

During a video conference, Sister Jean shared that a number of Loyola boosters had offered to help her get to Indianapolis for the men's basketball tournament.
One alum wrote and told me that her husband was willing to drive me down. Another person told me she was going to sneak me out of the university, and another couple said they would like to kidnap me, and Loyola would have to search for me.
"These young people keep me young, even though I'm 101, I consider myself young at heart," the chaplain said during the video conference, according to reporters who attended the press event.
"I really wanted to go badly," Sister Jean said, according to the campus paper The Loyola Phoenix. "I also understand that Loyola was worried about safety for me. But the kind of people who go aren't rowdy people, of course they're parents, relatives and of course fans from the schools," she said.
"They're just really on a big high because their school is there. They're not out to harm anybody."
In 2018, the men's basketball team entered the tournament as a No. 11 seed. It defeated a handful of higher-ranked teams before ultimately losing to the University of Michigan in the Final Four.
MORE: Illinois high school sports officials require masks while playing basketball
Editor's note: The headline and first sentence have been updated to clarify that Sister Jean is the chaplain of the men's basketball team.
IMAGE: WGN News/YouTube
Like The College Fix on Facebook / Follow us on Twitter