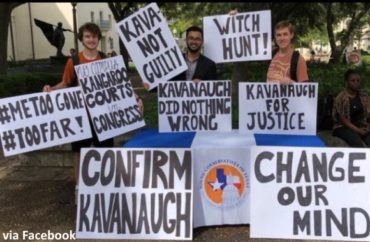 Meanwhile, conservative students doxxed
Earlier this week a mob of students, enraged by a pro-Brett Kavanaugh tabling effort at the University of Texas at Austin put together by its Young Conservatives of Texas chapter, encircled and yelled at its members while chanting obscenities. Several students were also filmed grabbing the young conservatives' signs out of their hands and ripping them up.
One student told the conservatives if they did not want their signs ripped up they should not have written such offensive things. The signs stated phrases such as "#MeToo gone #TooFar," "KavaNotGuilty" and "No Campus Kangaroo Courts in Congress."
In the wake of that melee, campus authorities are reviewing the incident, UT Austin spokesman J.B. Bird told The College Fix. 
"Because of federal privacy law, the university does not talk about specific student discipline cases," he said. "Damaging another person's sign is a violation of university rules. The Dean of Students has reached out to students involved to determine appropriate action. University Police are also reviewing potential criminal violations."
Meanwhile, members of Young Conservatives of Texas have had their names, phone numbers, places of work and personal social media accounts published by an activist group that describes itself as "anti-oppressive, anti-authoritarian, anti-capitalist."
The doxxing attack, published on the anarchist group's website, accused the Young Conservatives of Texas of defending "rapists" and making the campus "hostile to survivors."
In one case, the anarchist group posted the number to the Chick-fil-A where one of the conservative students is employed. In another example, campus Dean Douglas Garrard, who tried to keep order and quell tempers, had his office location, cell number and email address published by the group.
"He threatened to use cops — armed men with guns with the right to imprison or kill — against survivors and other students protesting rape apologia," the anarchist group stated. "When students attempted to confront him about protecting rape apologists and failing to protect survivors, he refused to have a conversation and claimed that he did not have a position. Contact him and his office and force them to take a position and be held accountable for protecting a disgusting, hostile event at UT."
Anthony Dolcefino, vice chairman of the Young Conservatives of Texas UT chapter, said that's not the first time his group has been doxxed.
"They're vicious — they've called us every name in the book by now," he told The College Fix.
Despite the outrage and doxxing attack the young conservatives faced, it appears their spirits and confidence remain high, and their plans to fight leftism on campus on track, according to a video of their post-demonstration meeting.
"At the end of the day, we've let the campus descend into this level of far-left madness because conservatives have ignored it, but through actions like what we did today we embolden people to stand up for what they believe in," said Saurabh Sharma, chairman of the Young Conservatives of Texas, during the meeting.
Addressing those who have been doxxed, Sharma said "our heart goes out to them. It's truly evil what [the doxxers] are willing to do. Luckily they did not manage to get any of our addresses, however there's email addresses floating around."
"This is the extent they are willing to go to," he added.
As for UT, Leonard Moore, vice president for diversity and community engagement, put out a statement in defense of free speech and student activism.
"[A]t times there will be views expressed that some may disagree with," Moore said. "All members of our community need to be treated with respect and dignity."
He also encouraged students who feel unsupported to seek out to the many resources available on campus for help.
MORE: Campus mob enraged by 'Confirm Kavanaugh' display
Like The College Fix on Facebook / Follow us on Twitter