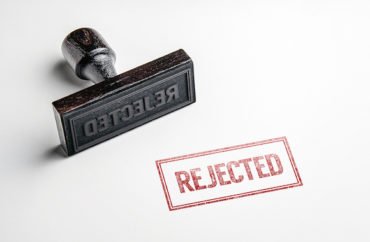 'Nationalism … connotes xenophobia,' editor says
New York University's student newspaper recently axed an ad placed by National Review editor Rich Lowry to promote his new book, "The Case for Nationalism," and a campus lecture by the same name.
NYU's Washington Square News editor-in-chief Sakshi Venkatraman put out a statement explaining her motives.
"On Sunday night during our weekly print production of the paper, I decided to pull the ad from the issue. The ad's pro-nationalist message does not align with the values of our paper, and after much thought, it was my decision to cancel it," she said. "The word 'nationalism,' as it exists in today's political lexicon, connotes xenophobia and white supremacy, and printing it in large letters on the back of our paper would have marginalized people of color on our campus and our staff. I prioritized the sensibilities and trust of our audience over the ad revenue, and I stand by my decision."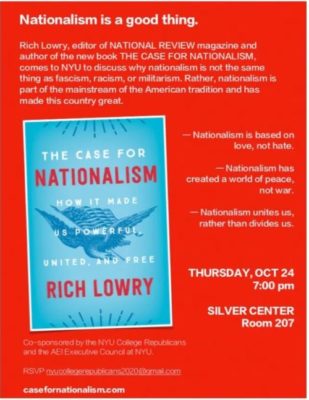 In response, Lowry argued by doing so, the paper has reinforced the entire purpose of tackling this subject.
Lowry wrote that the goal of the lecture and book is to invite people to "learn why their pre-conceptions about nationalism are incorrect," making Venkatraman's decision uniquely ironic.
From Lowry's response:
"That this is ruled out of bounds goes precisely to a point I make in my book. The greatest killer of the 20th century was trans-national ideology, especially Communism. But I'm sure I could take out an ad for a laudatory talk about Karl Marx or socialism and no one would bat an eyelash, in fact would welcome it. But if you want to say, 'Hey, Alexander Hamilton, arguably the greatest American nationalist, had a point,' or 'You know, nationalism has been part of the American mainstream, from the time of the American Revolution onward,' or, 'Gee, it's a very good thing that we live in a world of sovereign nation-states,' no one wants to hear it."
Venkatraman acknowledged that removing advertisements is not standard practice for her publication, saying "I made a judgment call while my colleagues on the business side of the paper were asleep, and we have put practices in place to ensure that an ad of this nature does not again get so far along in the process before being canceled."
Meanwhile, Lowry's lecture on Thursday night at NYU appears to have gone off without a hitch. He tweeted: "Thanks to @NYUCR for having me last night to talk about my nationalism book. Looks of excellent questions, a good exchange with folks who didn't agree with me, and counter to @nyunews no one was triggered or marginalized."
MORE: Harvard immigration activists furious that student newspaper asked ICE for comment
COVER IMAGE: Castleski_Shutterstock
Like The College Fix on Facebook / Follow us on Twitter