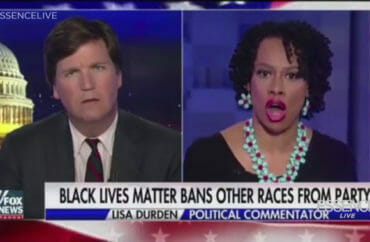 College claimed it was 'inundated' with negative feedback after instructor's appearance; emails suggest otherwise
A college's justification for the firing of a controversial instructor appears to be contradicted by internal emails recently obtained by a campus watchdog group, with a member of the organization saying the school should reinstate the instructor on grounds of freedom of expression.
Essex College officials, meanwhile, have ignored repeated requests for clarification on the true impetus for the scholar's termination.
Following a lawsuit from the Foundation for Individual Rights in Education, Essex College in Newark, New Jersey, released a "volume of records" related to the dismissal of instructor Lisa Durden last June.
Those records, FIRE reported yesterday, show that the college's initial reason for dismissing Lisa Durden–that the school was "inundated" with "feedback … expressing frustration, concern and even fear" after Durden delivered controversial remarks about Black Lives Matter on Tucker Carlson's Fox News show–does not appear accurate.
"Essex County College's internal records," FIRE investigative reporter Adam Steinbaugh writes, "do not support its leadership's claims that it was 'immediately inundated' with 'feedback from students, faculty and prospective students and their families expressing frustration, concern and even fear' about Durden's views."
"To the contrary, the records indicate that administrators had already decided to take action before any member of the public contacted them. And, for the first 13 days after Durden's appearance, only one person contacted the college to complain. "
"If anyone at Essex — other than administrators — was aware" of Durden's appearance, Steinbaugh writes, "there's no record of objections, much less an avalanche of students expressing 'fear.'"
"It's difficult to pin down Essex's motivation," Steinbaugh told The College Fix in an interview via email, "but what they were telling the public doesn't match what was going on behind the scenes. If there were concerns about how Essex would be viewed, those concerns proved unfounded. The college conceded that Professor Durden 'was in no way claiming to represent the views and beliefs of the College, and does not represent the College' during her appearance."
"Durden's affiliation with Essex," Steinbaugh added, "was not mentioned during her appearance" on television.
Controversy began after Fox News appearance
In June of last year, Durden appeared on Tucker Carlson's Fox News show to defend a blacks-only Black Lives Matter event. During the appearance she mocked the idea of white people being excluded from the event, telling Carlson: "[B]oo hoo hoo, you white people are angry because you couldn't use your white privilege card to get invited to the Black Lives Matters [sic] all black Memorial Day celebration."
Almost immediately Durden was suspended from her position at Essex and eventually fired.
Shortly thereafter FIRE put in a request through the open records state law for documents related to her firing, hoping to see proof of the alleged feedback from "students, faculty and prospective students."
Essex ignored the requests for months, despite New Jersey law requiring a response within seven days. The school finally released the documents this month.
The College Fix reached out repeatedly to Essex officials for comment on the case and the newly released emails. None responded in time for publication.
FIRE has also asked Essex County College — twice — whether it still stands by its original claims.
"Essex, inundated by our two emails, has not responded," Steinbaugh wrote in his piece.
To The College Fix, Steinbaugh expressed hope that the decision will be reversed.
"We'll continue to monitor this story," he told The Fix, "and we hope that Essex will recommit to freedom of expression by rescinding Durden's termination."
MORE: Professor suspended after controversial Tucker Carlson appearance regarding Black Lives Matter
MORE: FIRE to Wichita State: 'Heightened sensitivity is not a license to violate established law'
IMAGE: YouTube
Like The College Fix on Facebook / Follow us on Twitter