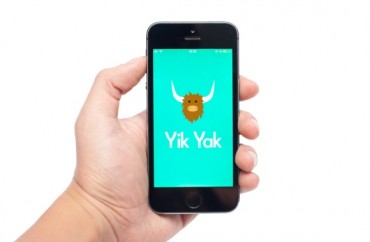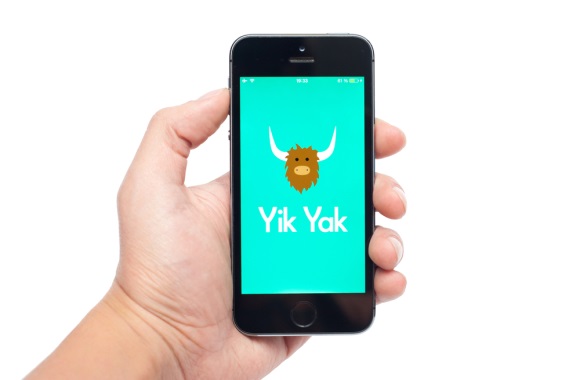 When Saint Louis University banned Yik Yak from its wireless network, its leaders described the move as "symbolic."
That's because the smartphone application would continue to be available on students' smartphones via their cellular service. But campus leaders forged ahead nonetheless, banishing the app from their campus wireless network, hoping students would "live above the Yak."
A SLU administrator told The College Fix the app was banned last December "because anonymous posts were found to violate the university's appropriate use policy," which forbids sexual, racial or ethnic harassment. And yet every day on campus, Saint Louis University students can still freely access and use the app on their cellphones, and post whatever they want.
Saint Louis University is not alone in "symbolically" banning Yik Yak in the name of protecting students from hateful speech, even as others decry the move as suppressing students' free speech.
It's unclear exactly how many universities have blocked the app, though at least nearly half a dozen universities have done so, such as at Augustana College in Illinois, Utica College in New York, and Norwich University in Vermont.
Yik Yak is a popular social media app that exploded onto college campuses in recent years. It allows users in a specific geographic area to post anonymously to a single feed for their community, sort of like a local anonymous Twitter. Typical posts on Yik Yak range from complaining about a boring lecture to lewd comments to random campus musings.
But the app has faced negative press and student complaints for racist, sexist and threatening posts. Seeing it as breeding ground for such speech, some universities banned the app from their wireless networks.
RELATED: Yes, we hate Yik Yak. No, trying to ban it will backfire
At least one university, The College of Idaho, reached out to Yik Yak, requesting it fence off the app from the university premises. The request wasn't met.
Yik Yak does "geofence" middle schools and high schools from the app. Though, Yik Yak spokesperson Hilary McQuaide told The College Fix it's not the app's policy to geofence universities, since it is intended for those 18 years and older.
McQuaide said she didn't know how many universities have requested a geofence, but said it's up to individual universities to ban the app on their wireless networks.
"We don't get involved in that," she said.
For some, the symbolic action is seen as a suppression of free speech on college campuses.
"The best response to speech we don't like—be it online, over an app, or in real life—is more speech, not censorship," Will Creeley, a lawyer with the Foundation for Individual Rights in Education, told The College Fix in an email.
Creeley said he believes universities are misguided for condemning the app itself.
"Banning the app because of the expression it contains is misguided because doing so targets the means of expression rather than the expression itself," he told The Fix.
RELATED: The true story of how Yik Yak helped nix mandatory pro-environmentalism class
To expand on his argument, Creeley notes that universities wouldn't ban Gmail if students were found to be exchanging unprotected speech on a university network.
"We wouldn't ban Gmail on campus just because one can engage in unprotected expression (like incitement, for example) via email, nor do we ban newspapers or magazines because they sometimes contain libelous or defamatory content," he said.
Eric Stoller, a blogger at InsideHigherEd, shares the same sentiments.
"Banning or blocking Yik Yak is akin to getting rid of cellphones, email, snail mail, and any other type of communications platform. The tool is not the issue. It's the stuff that resides inside of the minds of those who are posting threats and/or racist/sexist/homophobic yaks," he wrote in a post earlier this year.
But some students and administrators argue it's the app's anonymity that makes it problematic.
"If someone puts a racist epithet on a Latino's door, or a black person's door, there's at least a potential evidence thread that can be investigated. Not with Yik Yak," College of Idaho president Marv Henberg said earlier this year.
But Creeley points out that anonymous speech is still constitutionally protected.
"As the Supreme Court ruled in 1995's McIntyre v. Ohio Elections Commission, anonymity exemplifies the purpose behind the Bill of Rights and of the First Amendment in particular: to protect unpopular individuals from retaliation . . . at the hand of an intolerant society," he explained.
Similarly, Stoller wrote "abolishing a tool, even one that is predicated on anonymity, does very little to combat the actual issue at hand."
Meanwhile, the app's anonymity doesn't prohibit users from being tracked down when posting unprotected speech. The app logs each user's IP address and GPS coordinates when posting.
Last year, a University of North Carolina student was arrested after making a false bomb threat on the app. Earlier this year, police arrested an Oklahoma State University student who warned students of a "school shooting on campus this Friday."
Creeley said he believes those who use Yik Yak to engage in unprotected speech "should face the consequences," but banning the app isn't the best way forward.
For Stoller, the logic is the same.
"Let's keep Yik Yak around and see how our communities unite to fight hate speech," he wrote.
RELATED: Faculty take over Yik Yak to spread good cheer over hateful comments
Like The College Fix on Facebook / Follow us on Twitter
IMAGE: Vdovichenko Denis / Shutterstock.com