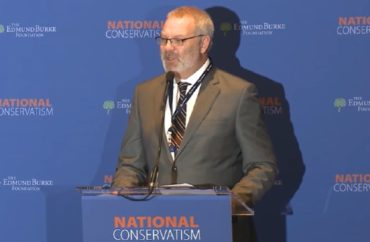 Boise State Professor Scott Yenor is under fire for defending family values and taking on feminism
Professor Scott Yenor is a political theorist and teaches at Boise State University.
He recently came under fire for comments he made at the National Conservatism Conference where he critiqued feminism, careerism and other attacks on the American family.
I spoke to him (pictured) recently via a phone interview to learn more about what he believes and his ideas for how we can have a healthy and functioning society.
"It's always been recognized that how we deal with the family has certain implications," Yenor said, "for whether we have a future."
He said the founders of every civilization established early on rules about marriage to "bind women and men together" and promote the education of children.
We need "intact" families and a "moral ecosystem," Yenor said.
But careerism and feminism are a threat to this system. He said society needs to stop encouraging women to enter into the workforce in demanding, high-stress careers. He encouraged reorienting women toward careers that they can leave and enter with ease.
"The position of feminism is careerism," the Boise State professor said. The current education system is "geared towards preparing people" for careers, jobs or internships.
"My argument isn't that women shouldn't work, but that our education system should be more complex," he said. There should be a "balance" so that women and men can enjoy the "fruits of marriage" and the "fruits of fulfilling labor."
"Feminism has simplified the preparation and education for girls, and I'm arguing for complexifying it," Yenor said.
"There should be honor, there is honor, in taking up careers that are more feminine," the professor said. These are careers that can be "picked up" throughout seasons of someone's life.
"It's not that we want everyone to be doctors, lawyers or engineers, it's that we want people to be able to have the joy [of jobs and families]."
Part-time work would be more "satisfying" for women who want to be able to have children but may want to "pick up work" at other times. People lived to be 90-years-old now, he noted, so when kids are out of the house it's understandable some women would want to work again or volunteer in the community.
I asked Professor Yenor how to get liberals to buy into the idea and suggested that they should be open to what he has to say. After all, prioritizing women at home, at least when there are children in the house, means they aren't off working for some big corporation.
It also is an antidote to greed, because it places the family and childhood development over the ability to buy more things with the higher income from two parents working.
He said:
My emphasis on that is to emphasize the radicalism of feminism on the question of how you should prioritize career and family. Feminism is very radical on this question. It does not meet or answer the actual desires of men or women. The ideology is, at its root, pernicious. And second, to actually appeal to the general aspirations of men and women.
Conservatives too, the political theorist said, "have bought into this false way of framing it," that women should always put careers over families. He said conservatives will erroneously argue that the "independent woman" is a "natural-born conservative."
"There's a two part process," for pushing back against feminism and careerism, he said.
We need to start "exposing feminism for its radical emphasis on independence and career," Yenor said. Next, we need to meet the "genuine needs of people in the face of onslaught and criticism that you're going to get for actually articulating what those needs are."
Professor Yenor has written more about this and many of those writings can be found here.
MORE: Only women should be allowed to vote on abortion: Mizzou student columnist
IMAGE: National Conservatism Conference/YouTube
Like The College Fix on Facebook / Follow us on Twitter