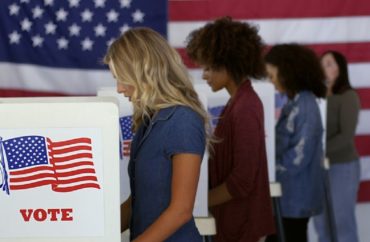 'C]is men should not have any power in deciding what women can or cannot do with their bodies'
A University of Missouri student believes that only women should be allowed to vote on abortion.
"To uphold the American rights to 'life and liberty,' cis men should not have any power in deciding what women can or cannot do with their bodies," Abigail Ramirez wrote on November 7 in The Maneater, the campus paper of Mizzou. She is an opinion columnist for the publication.
"Cis" is short for "cisgender" a nonsense word the Left uses to refer to men who do not suffer from gender dysphoria.
Ramirez said Texas' Heartbeat Act "is completely unfair and unrepresentative of women" which is why only women should be allowed the right to vote.
She argued that Jeffersonian democracy supports the idea of creating a new government where only women can vote on abortion.
"With predominantly conservative federal courts and male-dominated legislatures on both the national and state levels, the American government cannot and does not properly represent the people or protect their rights," Ramirez said. "It is the right of the women to demand a change in governmental power or legislation regarding abortion rights and who gets to vote on them."
The pro-abortion student said "it is unethical for cis men to have any power in choosing what women are able to do with their bodies, including getting an abortion."
"An abortion is a woman's choice and a woman's experience," Ramirez said. "Only women should be able to vote on issues that concern only their bodies, not cis men."
MORE: Our new Campus Cancel Culture Database
The Declaration of Independence supports the idea of banning men from voting on abortion, according to this student opinion piece.
"The only way for America to stay true to the Declaration of Independence is to only allow women to vote on the issue of abortion on the federal and state levels," she wrote. "That way, we are not only properly represented, but we also have a voice."
Ramirez does not explain how men "vote on the issue of abortion" at the federal level or how it would ever be implemented.
Federal elections do not contain referenda like state elections do. Furthermore, most abortion laws are passed by the state legislature, not by a ballot question during a statewide election.
She also appears confused about how marriage is supposed to work.
Ramirez said "women have been pawns in a male-dominated society, forced into the cult of domesticity and expected to follow the whims of husbands, bosses and virtually any other man in their life."
Women are both forced to stay home due to the "cult of domesticity" and take orders from their "bosses"? How?
Seems like staying at home and raising kids eliminates the issue of male bosses telling a woman what to do (more here). It also can shift a woman's priorities from herself and her career to her children and her family, which predictably change her political priorities.
This could be the issue Ramirez is actually troubled about — that married women are more likely to vote conservative and want to protect the sanctity of life.
Married women voted 52 percent for President Donald Trump in 2020, according to data compilation from the American Enterprise Institute. But 62 percent of unmarried women went for President Joe Biden in the 2020 election.
Worse for Ramirez is that marriage and childbearing correlates, if not causes, higher support for Republicans.
Data from AEI concluded that fertility rate is a better predictor of voting than being Asian or black.
Women having kids and getting married is a major blow for Ramirez' thesis that "[m]ale supremacy is being weeded out" — turns out that makes women more likely to vote red like men.
MORE: Senator Hawley warns about academic gender, racial theories
IMAGE: Vesperstock/Shutterstock.com
Like The College Fix on Facebook / Follow us on Twitter