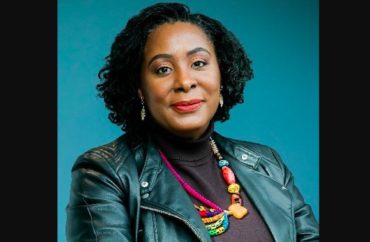 A modern languages professor at Carnegie Mellon University took to Twitter early Thursday to offer her wish that England's Queen Elizabeth "die in agony" during her final moments.
The reason for Uju Anya's vitriol: Elizabeth was the "chief monarch of a thieving raping genocidal empire."
The queen died a few hours after Anya's tweets.
"That wretched woman and her bloodthirsty throne have fucked generations of my ancestors on both sides of the family," Anya wrote. "She supervised a government that sponsored the genocide my parents and siblings survived. May she die in agony."
"If anyone expects me to express anything but disdain for the monarch who supervised a government that sponsored the genocide that massacred and displaced half my family and the consequences of which those alive today are still trying to overcome, you can keep wishing upon a star."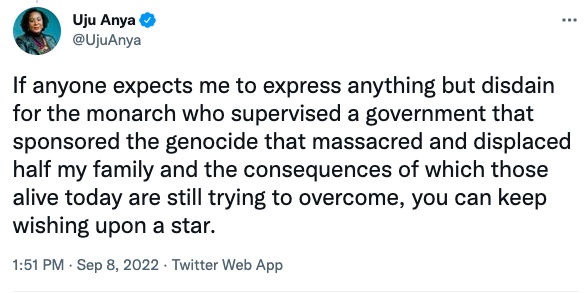 MORE: Prof says Meghan Markle is leaving Britain because of British racism
When informed by a Twitter user that her comments weren't "expected from a person of [her] level," Anya responded "Fuck you and your deference to genocidal colonizers." To another who wrote "Ewww you stink," Anya replied "You mean like your pussy?"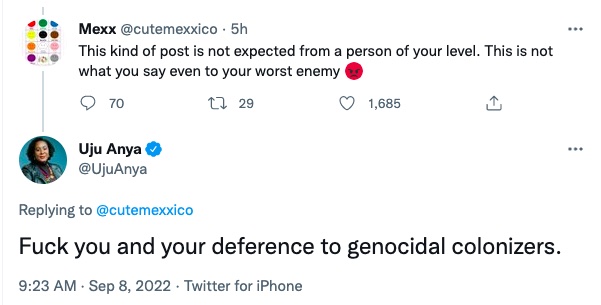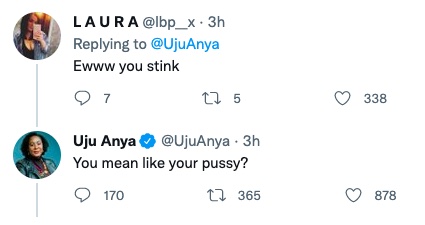 According to her website's biography page, Anya's main areas of research are "critical applied linguistics, critical sociolinguistics, and critical discourse studies examining race, gender, sexual, and social class identities in new language learning through the experiences of African American students." She previously held similar positions at Penn State and USC and has given lectures on "Critical Race Pedagogy for language teaching," "Racialized identities in the learning of a second language," and "Race, gender, sexual, and social class identities in second language learning."
Anya's university courses include "Language Diversity and Cultural Identity" and "Hip Hop and Funk Discourses of Black Womanhood in Brazil and the U.S."
Christopher Rufo noted on Twitter that the professor believes "'white women consistently vote to protect white supremacy' and that white mothers of biracial children have 'Mandingo bbc fantasies of Black men' and regularly call their own children the n-word."

Carnegie Mellon put out a statement late Thursday afternoon noting it "does not condone the offensive and objectionable" comments tweeted by Anya. It said "free expression is core to the mission of higher education" but that the professor's remarks were beneath the "standards of discourse" it expects.
MORE: Meme rebuking UK for 'colonizing half the world' spread by millennials in wake of Brexit vote
IMAGES: Uju Anya / Twitter sceencaps
Like The College Fix on Facebook / Follow us on Twitter