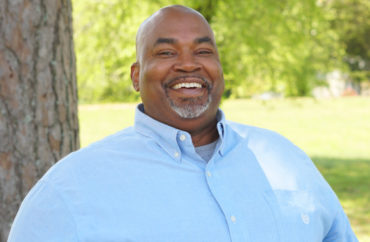 A North Carolina-based editorial cartoon that the state's first African-American lieutenant governor said portrays him and other Republicans as Ku Klux Klan members has the official up in arms.
"Depicting the first black lieutenant governor as Ku Klux Klansman. It's something we cannot stand for, folks," said Republican Lt. Gov Mark Robinson at a press conference he called earlier this week.
"It's something I'm not going to stand for," Robinson added.
The cartoon, published by TV station WRAL, depicts Republican members of the North Carolina Board of Education as an elephant wearing a Klan robe.
The caption is, "We prefer to start with a clean sheet," referring to GOP opposition to a new set of racially-based education standards proposed by the board.
As the state's lieutenant governor, Robinson is automatically seated on the state board.
On January 27, Robinson issued a press release criticizing a proposal by the board to require more discussion of systemic racism, systemic discrimination and gender identity in classrooms.
"We need to teach our children how to think and not what to think," Robinson said in his statement. He complained the standards had been crafted "by those on the radical left with an explicit agenda of being divisive, promoting left-wing ideology, and indoctrinating our students within public schools."
"The message here is clear," Robinson said. "America is a racist nation with systems in place designed to discriminate against minority groups. The implication? That you should hate our great nation."
Robinson later claimed he had collected 27,000 signatures for a petition opposing the new standards.
After initially agreeing to an interview with The College Fix, Robinson later declined comment.
In 2020, Robinson beat a crowded field to become the state's Republican lieutenant governor. The governor, Roy Cooper, is a Democrat – but if Cooper runs for U.S. Senate in 2022 and wins, Robinson would take his place as chief executive.
Cooper has said he supports the new race-based education standards.
As a child, Robinson was one of ten children growing up in extreme poverty in Greensboro, N.C. After high school, he joined the Army reserves, later taking a job making furniture. In 2018, he gained notoriety when he showed up at a Greensboro city council meeting to complain about the city banning a local gun show.
But as a candidate, Robinson caused controversy when past Facebook posts mocking other blacks, Jews and gays came to light.
"I'm not ashamed of anything that I post," Robinson told the media at the time.
He later argued the posts weren't important, as he wrote them before he took office.
"When I made those posts as a private citizen, I was speaking directly to issues that I'm passionate about. But as a public servant — and I said this to you — as a public servant, I have to put those opinions behind me and do what's right for everyone in North Carolina," Robinson later said.
In 2018, Robinson chastised black people for celebrating the "Black Panther" movie, saying they shouldn't "get so excited about a fictional 'hero' created by an agnostic Jew and put to film by a satanic Marxist."
In one post, Robinson suggested former First Lady Michelle Obama was a man.
"Michelle Obama is an anti-American, abortion and gay marriage supporting, liberal leftist elitist and I'll be glad when he takes his boyfriend and leaves the White House," Robinson wrote.
He further suggested that cultural acceptance of homosexuality meant pedophilia was next, followed by the "end of civilization as we know it."
While Robinson slammed the local media outlet for running the KKK editorial cartoon, the station's opinion editor defended it.
"Editorial cartoons are creative and provocative, using hyperbole and satire," said Capitol Broadcasting opinion editor Seth Effron in a statement.
"No one believes Republicans on the State Board of Education are members of the Ku Klux Klan," said Effron. "The editorial cartoon by Dennis Draughon is meant to point out that these members of the State Board are trying to wipe out from the social studies curriculum the record of racism which includes the Klan and the segregationist practices that were imposed in our state and nation's history."
MORE: School board president: Minorities aren't falling behind with virtual instruction, just 'learning differently'
IMAGE: Mark Robinson
Like The College Fix on Facebook / Follow us on Twitter