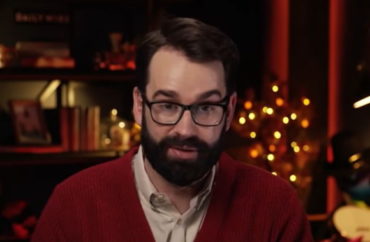 A talk on pro-life issues featuring Matt Walsh and co-hosted by Young America's Foundation and the College Republicans at Saint Louis University was abruptly canceled by the Catholic church set to host the event.
St. Francis Xavier College Church, part of the SLU campus, canceled the Dec. 1 talk one day before it was slated to take place.
"Having reviewed many of his public statements, we find them to be in opposition to the teachings of the Catholic Church," church leaders said in a prepared statement.
"…His provocative positions on immigration, on communities of color, on Muslims, and on members of the LGBTQ community seemed designed to stir anger and resentment, rather than encourage thoughtful dialogue."
The statement does not cite specific examples of Walsh's comments that allegedly run counter to Catholic doctrine.
The cancelation essentially marks the second time in the last several weeks that Walsh's speech had been canceled.
In mid-November, after students demanded the speech be canceled, administrators imposed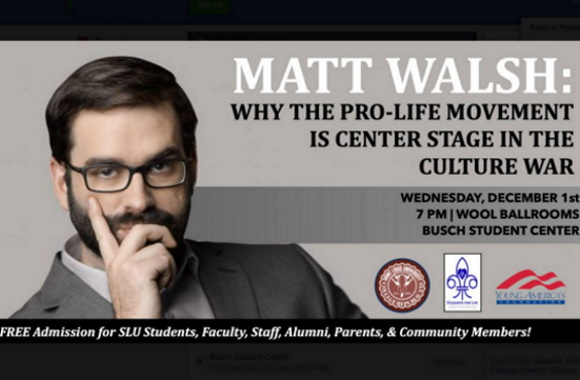 onerous COVID restrictions on the talk that would have essentially slashed the number of people who could attend, SLU College Republicans President Nicholas Baker told The College Fix.
The restrictions were unique to Walsh's talk, however. The Daily Wire reports that a recent talk by Steve from "Blues Clues" in the same SLU venue was not subjected to COVID measures.
YAF reports that, although St. Francis Xavier College Church leaders found Walsh's talk too incendiary to allow within its walls, it is scheduled to host an event on "environmental racism" next week.
As for Walsh's speech, organizers have secured a new off-campus venue, The Coronado ballroom, YAF reports.
MORE: Students demand pro-life speech be canceled, cite 'hate speech'
IMAGE: YouTube screenshot
Like The College Fix on Facebook / Follow us on Twitter