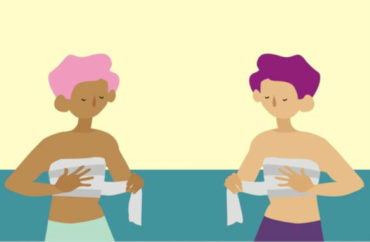 It's a 'safety' issue?
The College of Saint Rose was founded nearly 100 years ago by the Sisters of Saint Joseph of Carondelet to educate women, with a particular focus on professionally training teachers.
Coeducational for 50 years, the Catholic college in New York is now helping women transition to men – for free.
Student newspaper The Chronicle reports that the college counseling center is giving away "chest binders," which flatten and obscure the outline of female breasts, to students who request them.
A "good quality" binder can run $30, the newspaper reports, and making them free is important for students who are "not out" to their parents. Amazon sells some for $10-20, however. Each student is eligible for a new binder each semester, and no counseling is required. Students simply hand over their student ID and request a size and color.
The program was conceived by students who drafted a budget plan, got funding approved by the student government and then worked with the counseling center "to distribute the binders in a confidential way comfortable for students," according to the Chronicle.
A nonbinary student, Sam Rariden, was one of the first students to get a free binder from the college. Rariden defends the program on the grounds of "safety," since some students may otherwise use "several sports bras" or other restraints that can constrict breathing. Having the college provide binders is also safer because it lets students hide their gender identity from their families.
The Chronicle doesn't give an estimate for how many students have requested binders. The counseling center simply says "many students have utilized the program saying they feel much more comfortable in their bodies and appreciate the school having a program that makes them comfortable."
The programs by Saint Rose and secular colleges drew criticism on Twitter by skeptics of transgender ideology Monday night and Tuesday morning.
Why is this college giving out free binders to help girls flatten their breasts? Why is there such an increase in demand? Is there not a single responsible adult at this college asking what the hell is going on? https://t.co/6ABx42du4L

— FightingToGetHerBack (@TransCriticalMo) February 5, 2019
Time for a College Wall of Shame? Share schools that push Trans Ideology, such as: Rutgers https://t.co/7sY3HDoqTE St Rose https://t.co/rdBzPL6fXr College of Charleston. Please add your school story!

— MadMomms (@MMomms) February 5, 2019
We're creating a College Wall of Shame–might be simpler to list any colleges that DON"T push trans ideology. @DennisPrager https://t.co/dZyyh4p3c8

— MadMomms (@MMomms) February 5, 2019
MORE: Catholic university courses tout 'the queer self'
IMAGE: Alice Che/Shutterstock
Like The College Fix on Facebook / Follow us on Twitter