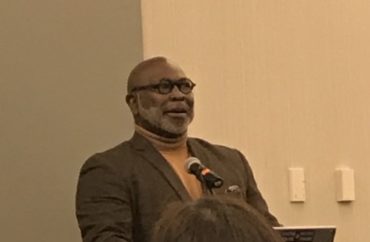 'I broke through the cocoon of religious custom that held me bound'
On Wednesday evening, Jan. 16, Georgetown University's Lecture Fund hosted Dr. Willie Parker, an abortionist made famous for saying he performs abortions because he is a Christian. The event was co-sponsored by Georgetown University College Democrats and H*yas for Choice, Georgetown's unrecognized pro-choice student group.
H*yas for Choice President Angela Maske told The College Fix via email that the organization was excited to have Parker on campus.
"HFC is proud to co-sponsor this event and excited to see Parker speak on our campus. Parker has an impressive record of both advocacy and direct services, and has helped countless patients, particularly women, obtain a variety of forms of healthcare that ideology-driven legislators have tried to restrict," Maske said, noting that her group did not personally solicit Parker to come to campus.
"Dr. Parker has also said in the past that it is his faith that motivates him to provide these health services, particularly abortion, that many people desperately need," Maske added.
When asked if it was appropriate for Georgetown, a Catholic university, to host a talk by an abortion provider, Maske said unequivocally yes.
"We believe that a desire to seek justice, driven by one's faith, is very much in line with Georgetown's values and reflects the experiences of our members, many of whom are Catholic, Christian, and of other faith backgrounds," she said.
"Given that Georgetown has hosted and poured university resources into the Cardinal O'Connor Conference for nearly twenty years, we find that inviting a speaker such as Dr. Parker, whose work reflects the beliefs that many students on our campus hold, is more than appropriate."
Security heavy at event
The night of the event, students had to swipe in to the venue and have their bags checked by three police officers. Three more officers were stationed inside around the perimeter of the room. By the time the event started, the space was packed with roughly a hundred students, staff, and faculty.
The Fix spoke to students before the event to learn why they came to see Parker speak. Georgetown senior Avery Moje told The Fix she attended because she's currently reading Parker's book, Life's Work: From the Trenches, A Moral Argument for Choice. "I'm reading his book right now, and I find his stance really interesting. I think it's great that the Lecture Fund is bringing someone so prolific in his field to speak," she said.
Sophomore Andrea Carballo had a different take. "I don't agree with his perspective, and I wanted to display that there is a community here at Georgetown that does not agree with abortion. I wanted him to see our face." Carballo is a member of Georgetown Right to Life.
'A moral and ethical obligation' to perform abortion
The event began with an introduction by Lecture Fund board member Alice Collins, who lauded Parker as "a trailblazer for reproductive rights," "a personal hero," and "an inspiration."
When Parker took the podium, he quickly laid down several ground rules before speaking.
"First, 'Everyone's entitled to their own opinion, but no one is entitled to their own facts.' I will not accept alternative facts. Second, someone said, 'While all think alike, none think too much,' so in the spirit of honest dialogue, I hope to provoke thinking and thoughtfulness around even dissent. And the final thing, I ask that if we disagree, we do so in the spirit of Mahatma Gandhi when he said: 'Honest disagreement is the beginning of progress'," Parker told the crowd.
Parker spoke for roughly forty-five minutes, commenting on racism, oppression, patriarchy, and Christian hypocrisy while quoting Malcolm X and Martin Luther King, Jr.
"I was never anti-abortion," Parker said. "But I was conflicted about what it meant for me personally to provide abortion care." For Parker, this conflict was resolved after listening to Martin Luther King, Jr.'s "Mountaintop Sermon" about the Good Samaritan. From then on, he believed he had "a moral and ethical obligation to provide abortion care."
"I broke through the cocoon of religious custom that held me bound," Parker said.
During a Q&A session that followed, Parker fielded questions about his personal limits on performing abortions, saying that he would not perform an abortion if he felt there was an underlying sex-preference, but he would refer the woman elsewhere. However, when asked if he was against "intact dilation and extraction," in which a baby is partially birthed, its skull crushed and its brains sucked out of its head, Parker said no.
"I think that no procedure should be banned or outlawed outright for the purposes of people who are not medically trained and who don't understand the indications for various surgeries and techniques. No procedure should be politicized and prohibited to the peril and detriment of someone for whom that procedure might be vital to have," he said.
According to his website, the United Nations' Office of Human Rights has recognized Parker as one of twelve Women's Human Rights Defenders, and in 2015, he received Planned Parenthood's highest honor: "The Margaret Sanger Award." Currently, Parker is fighting to keep Mississippi's final abortion clinic open and is serving as a board member for the Religious Coalition for Reproductive Choice.
MORE: Pro-abortion professor won't say if unborn humans are human
MORE: Christian university promotes abortion to students via eugenics group
IMAGE: Sarah George
Like The College Fix on Facebook / Follow us on Twitter