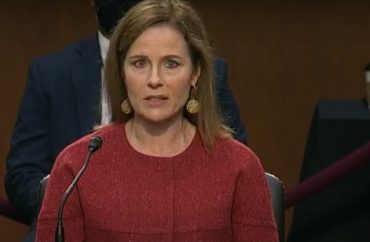 Accused the judge of having an 'extremely dangerous' worldview
There's an argument used by leftist or lapsed Catholics that begins with "I went to a Catholic school" and ends with them expounding the benefits of abortion or explaining why the Catholic Church should embrace homosexual marriages.
A feminist writer who went to the same high school as Judge Amy Coney Barrett, but not at the same time, recently employed that attack line and used it as justification for opposing the nomination of Barrett to the Supreme Court.
Lisa O'Neill, a writer and a producer of a podcast called the "Matriarchitects," recently wrote an essay in The Guardian, titled "Amy Coney Barrett went to my all-girls high school. I hope she's not confirmed."
"I would be proud to see a fellow alum serve on our highest court if that person's presence didn't threaten to irrevocably harm the lives of millions of Americans," O'Neill wrote.
She explained that at their high school run by the Dominicans, a religious order that focuses primarily on education, the school motto was "veritas" which means truth, in Latin.
"But the truth is not monolithic – it is informed by our belief systems," the writer explained. But the way people "define the truth matters, especially for someone serving" as a Supreme Court Justice.
The Catholic school grad gets into her first gripe with Barrett, mainly that the judge holds the view shared by the Catholic Church, and many mainstream Christian denominations, that human life begins at the moment of conception and abortion ends a human life.
She complained:
Barrett's anti-abortion views have come to bear in public stances. In 2015, she signed a letter to Catholic bishops affirming the value of 'life from conception' alongside prominent anti-choice figures such as Marjorie Dannenfeiser [sic], president of anti-choice fundraising organization the Susan B[.] Anthony List. As a law professor at Notre Dame, Barrett was a member of the anti-abortion group University Faculty for Life, and in 2006, she signed a paid ad in a South Bend newspaper that called for 'an end to the barbaric legacy of Roe v Wade.' In 2013, she delivered two talks to anti-abortion student groups at Notre Dame. Barrett has also been critical of the Affordable Care Act guarantee that requires employers to provide birth control to their employees.
O'Neill explained that in high school she "often wore a small gold pin in the shape of baby feet" on her shirt but after starting school at the Catholic University of America she "became exposed to increasing world views" and began to understand the "limits" of her Catholicism.
She accused the Catholic Church of a "patriarchal culture" that "harmed the lives of girls and women when we were discouraged from any agency around our own bodies, sexuality and life choices."
Barrett's skepticism of Obergefell v. Hodges, which forced every state to recognize homosexual marriages, is another cause for concern for O'Neill. The writer worries "about the lives of LGBTQ+ families" because of Barrett's beliefs.
The Catholic Church also holds that marriage is between one man and one woman.
The writer knocked Barrett's involvement in religious group People of Praise and more broadly the idea, promoted by St. Paul, "that husbands are head of their wives and the authority of the family."
Barrett's involvement in the group makes her unqualified to sit on the highest court, according to O'Neill.
She wrote:
A worldview in which an authoritarian structure rules is one that erases individual autonomy. A worldview in which women play subservient roles, needing to consult others before making decisions, renders them without agency. This worldview is extremely dangerous when scaled to constitutional decisions on national policy, the domain of the [S]upreme [C]ourt.

I respect the role of religion and spirituality in our personal lives. And I do not take issue with someone of any faith serving on the supreme court or even describing themselves as devout. I do, however, have a problem when evidence exists, in words and actions, that their faith paired with their legal theory might compel them to make decisions that would negatively impact the lives, agency and wellbeing of generations of Americans.
IMAGE: Fox News/YouTube
Like The College Fix on Facebook / Follow us on Twitter