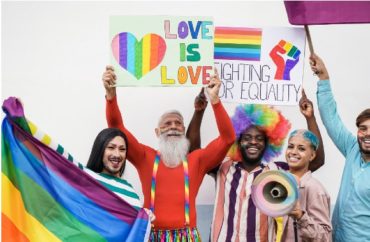 The most charitable approach would be to encourage celibacy, offer prayer
June is the month of the Sacred Heart of Jesus in the Catholic Church. In secular society, it's also "Pride Month." Catholic universities should not promote the latter, like Notre Dame has done,  but should encourage celibacy and offer prayer for those who are struggling with same-sex attraction.
Fundamentally, Pride Month is about promoting lifestyles that are directly opposed to Catholic Church. It promotes mortal sins such as extramarital sex, since two men and two women can never be validly married. Transgenderism is inherently about the idea that God did not create man and woman, but that people can change their genders, an idea that Pope Francis has called "the annihilation of man as the image of God."
The month is even named after the deadliest of the seven deadly sins.
A holier approach that has the potential to save the souls of students who are same-sex attracted or believe they were born in the wrong body would be to encourage celibacy and offer prayer. What the Catholic Church wants for all people, and what its universities can teach and promote, is for people to go to Heaven when they die.
But advocating for mortal sins, which "kicks the Blessed Trinity out of our soul," as one priest puts it, would not be charitable.
— Villanova University (@VillanovaU) June 1, 2021
When someone dies with a mortal sin on their soul they go to Hell for eternity. Mortal sins have to be forgiven in the Sacrament of Confession.
If Catholic university officials want to help their students avoid Hell, they should consider these suggestions. If they do not want to help their students avoid Hell, the university should not call itself Catholic.
This approach to combat LGBT ideology is not without precedent. In addition to Catholic groups that explicitly promote celibacy among same-sex attracted people, The College Fix recently covered the efforts of a university that has successfully intervened against pornography use, another mortal sin.
Benedictine College in Kansas has support groups, seminars and even homilies during Mass about combatting porn usage. Its efforts received praised from Patrick Reilly of the Cardinal Newman Society.
Benedictine officials block porn access on its network but go further by addressing "the human temptations that lead to viewing porn and the struggles of students who are addicted to it," Reilly said.
#LoyolaChicago is proud to recognize & celebrate Lesbian, Gay, Bisexual, Transgender, & Queer (LGBTQ+) #Pride Month. Pride Month celebrates equity, visibility, & self-affirmation for LGBTQ+ Americans & recognizes the impact LGBTQ+ individuals have had on history. pic.twitter.com/hi6bBXEk1P

— Loyola Chicago (@LoyolaChicago) June 1, 2021
Catholic universities could do the same to reach out to students who identify as LGBT to teach them, charitably, how to change their ways.
John Monaco, a Catholic doctoral student at Duquesne University, has made similar suggestions.
He encouraged fasting, penance and prayer for people who are same-sex attracted and urged Catholic institutions not to embrace Pride Month.
There should be no promotion of the goals and ideals of Pride Month.
MORE: Catholic universities should focus on saving souls, not being liked by secular culture
IMAGE: Sabrina Bracher/Shutterstock.com
Like The College Fix on Facebook / Follow us on Twitter