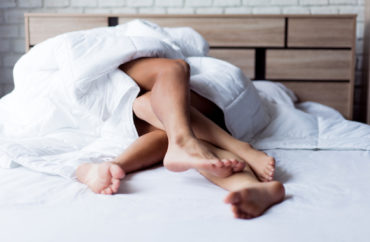 Students say rule is 'inconsistently' enforced
The University of Notre Dame, one of the most prominent Catholic schools in the country, has a rule against "sexual union outside of marriage," a proviso that if violated can result in punishment. Students, however, claim that the regulation is not regularly enforced.
According to the school's website, the official policy states that "the University embraces the Catholic Church's teaching that a genuine and complete expression of love through sex requires a commitment to a total living and sharing together of two persons in marriage." The Catholic Church stipulates that sexual intercourse outside of marriage is a mortal sin.
"[S]tudents who engage in sexual union outside of marriage may be subject to referral to the University Conduct Process," the policy continues. That process includes a meeting, conference, and hearing, and relies on a "preponderance of the evidence standard," meaning that the school only has to determine that it is "more likely than not" that the policy was violated.
If students are found to be in violation of university standards, the penalties range from making an apology to dismissal.
The College Fix reached out multiple times to Heather Ryan and Daniel Riemersma, the director and assistant director of the school's Office of Community Standards. Neither responded to repeated phone and email queries asking about the process and if any students have ever been sanctioned under the rule.
However, according to two Notre Dame students, the rule is either not enforced or is only applied "on a dorm-by-dorm basis."
One male student, who asked to remain anonymous, told The College Fix that no one gets in trouble for having sex outside of marriage. He relayed a story in which a campus official actually witnessed sexual intercourse taking place.
"No, nobody gets in trouble for that stuff… Last year my roommate was having sex with his girlfriend and didn't tell me. I had to go to my room to grab something. I thought he went to the football game (which I was headed to) and had accidentally locked the door, so I got my rector to open the door. The rector walked in on them having sex, and he just laughed and walked away," the student said.
Rectors, according to Notre Dame's website, are staffers who are meant to help campus residence halls "become communities of faith and learning, where students discover how to integrate and live out the intellectual, spiritual, and social dimensions of their education."
Another student, Oksana Oleshchuk, told The Fix that the no extramarital sex rule is inconsistently enforced. "Those rules are kind of enforced on a dorm-by-dorm basis. Most of the rules involving activities that would happen within a dorm are," said Oleshchuk.
"I have never heard of anyone getting in trouble for that specific rule, though… I think [the rule] is only enforced if there is a direct situation dealing with it, which is most likely never since RA's normally keep to their own and probably would not experience that issue," Oleshchuk added.
Oleshchuk pointed out that some of the university's resources, such as "caring, non-judgmental, professional assistance and support" for pregnant students, indicate that "the rule does not seem to be enforced post hoc."
While the two students said that the ban on extramarital sex is not stringently enforced, both mentioned the university's "parietals" policy. Notre Dame's dormitories are single-sex, but the parietals policy allows limited visiting hours for students to spend time in dorm rooms of the opposite sex.
The policy exists "to foster the personal and social development of students and at the same time respond to the safety, security and privacy needs of those sharing common living space," according to the university.
The allowed visiting period is from 9 a.m. to 12 a.m. on weekdays, with the period extended to 2 a.m. on the weekends. According to the male student, this is the more stringently enforced policy. "People don't take the sex stuff seriously, but they take parietals seriously," he said.
MORE: Catholic university is 'grateful' for students' anti-porn resolution
MORE: Student group delivers condoms, pregnancy tests on Catholic campus
IMAGE: TORWAISTUDIO / Shutterstock.com
Like The College Fix on Facebook / Follow us on Twitter