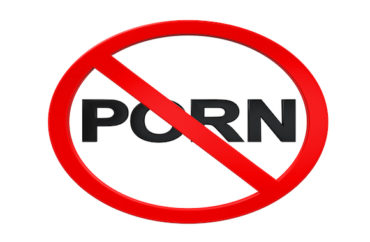 Students want porn banned on campus wifi network; spokeswoman calls argument 'convincing'
A Catholic university is signaling a possible willingness to work with students who wish to see porn banned on the school's wireless Internet network.
Student government representatives at the elite Catholic University of America recently voted to ban hundreds of pornographic websites from the school's WiFi networks. The resolution was headed up by student senator Gerard McNair-Lewis and calls on campus administration to "[prohibit] access to the top 200 pornography sites through the campus network," on the grounds that such content is a "grave offense against chastity" which "strips from the nature of the unitive act its proper end of love, procreation and unity."
A campus spokeswoman indicated that the school was both pleased with the resolution and possibly willing to consider its demands.
"While resolutions of the SGA are not binding on the administration, it is difficult to ignore the firm stance against pornography made by our student body," campus spokeswoman Karna Lozoya told The College Fix.
"[T]he student resolution made a convincing argument that banning porn on the University network sends the right message to our student body. No decision has been made on the ban, but the University is grateful to the SGA for bringing to our attention their desire that we ban pornography on the University network," Lozoya added.
Student body president: Anti-porn position not just for religious people
In a statement he provided to The College Fix, Student Body President Jimmy Harrington said he was proud to sign the resolution, and that he supports it "not from purely religious or Catholic grounds." Rather, he cites "the pornographic industry's relation to sex trafficking and its portrayal of individuals that leads to their objectification" as secular motivating factors for his signature on the campus legislation.
"Further, such regulation is made by nearly every corporation or company. Pornography and other harmful materials are not banned by [corporate] networks and on work computers on any basis of morality although this may occasionally be the case, but more to prevent the exposure and risk that the networks and hardware take on when a user visits such websites," Harrington said.
This is not the only school that has recently seen students agitating for pornography censorship. Earlier this year students at both Georgetown University and the University of Notre Dame called upon their schools to censor porn on their respective university networks.
"Georgetown seeks to educate its students on the harms of alcohol abuse and sexual assault, but completely ignores the addiction that can fuel sexual assault: pornography addiction," Georgetown senior Amelia Irvine told The Fix at the time.
Students at Notre Dame, meanwhile, were seeking to raise similar awareness of porn use there. Speaking on the media attention that the campaign had received, student James Martinson told The Fix: "This kind of exposure has allowed so many people to think differently about how many students feel about pornography consumption and how it affects individuals, relationships and campus communities."
On the opposite end of the spectrum, Arizona state actually took a proactive effort earlier this year to ensure student access to porn after it was temporarily removed by "an inadvertent change applied to the WiFi network," according to a school spokesman.
MORE: Student activists petition schools to censor pornography on campus
MORE: 'The men of Notre Dame request a porn filter'
IMAGE: Nerthuz / Shutterstock.com
Like The College Fix on Facebook / Follow us on Twitter