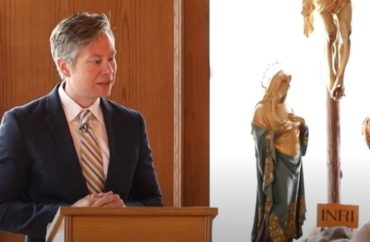 'It is a truly revolutionary program,' one student says
A Catholic university's creative writing program has produced numerous published works and also helped students grow in their faith just two years since its inception.
The Masters of Fine Arts in Creative Writing program at the University of St. Thomas has already been a catalyst for several successful writers in the Catholic literary tradition. Poet James Wilson (pictured) left Villanova University to start up this program at the Catholic university in Houston.
Carla Galdo, a homeschooling mother of six, spoke to The College Fix about her experience. "There are small epiphanies present in even the most mundane moments of family life, and things from my day-to-day life that seemed entirely unremarkable started to jump into my poems without my planning it," she said via email.
"From my toddler's shoes clattering down to the floor in the middle of a quiet moment in church, to a Wal-Mart trip with my six year old, to piles of teenagers' laundry — the most random things have struck me while writing, and made their way into my poems," Galdo told The Fix.
Likewise, Sarah Cortez has progressed in the program in many ways. She has contributed to the National Catholic Register, Texas Catholic Herald, St. Austin's Review and Catholic Arts Today.
"This program will change the publishing world for the better. It is a truly revolutionary program in the same sense that Jesus was 'revolutionary,'" Cortez told The Fix via email. "That is, to try to reform the world from its path of sin and destruction and to remind both ourselves and the world that the true work of our lives is to reach God by living out the fullness of his word here on earth."
"So, from my perspective, the excitement of this program is to try to live as a more 'on fire' Catholic writer fully informed of theology, philosophy, and writing craft," Cortez said.
Mary Finnegan has worked as a nurse in hospitals for twenty-five years after graduating with a degree in English, and this program has given her hope for writing as she has faced "a blatant animus towards spiritual writing" in the publishing industry.
MORE: Franciscan University 'Veritas Society' encourages debate
"Professionally, I've had opportunities I would never have had otherwise, most especially working at Wiseblood Books, which has been one of the greatest blessings of my life, and just an absolute joy," Finnegan told The Fix via email. "To get to bring books into the world is a dream come true."
She said "literature matters" because it can "teach us something about what it means to be
human."
"This program is, at its heart, an enterprise dedicated to human flourishing, exploring questions such as: Why are we here? What is the meaning and purpose of life? How do we live, and die, well? For whom are made?" she said.
Student Isabelle Hsu said she was "lucky" to be involved in this program.
"I just had two poems published in the San Diego Reader and I am working on submitting a few more to different publications and competitions," Isabelle Hsu told The Fix via email.
"This program has been an incredible experience. I have met many talented writers, have learned more about the Catholic literary world, and have been able to explore many different avenues—internships with different organizations and publications," she wrote.
"It has been a delight to share a common language and love of the written word," Hsu said. "I also feel incredibly lucky to be able to participate in this program at such an early stage. I am excited to see how it will grow and shape the literary world over time."
Wilson, the program's director, previously told The College Fix that the creative writing degree "begins with the affirmation of the reality of beauty as the splendor of form, the splendor of truth."
"We understand that an encounter with the beautiful is not a mere appearance but an encounter with reality in the most profound sense," he said.
"The arts have an integrity because they are among the most significant ways we encounter the Real, and it is through that encounter that our souls are awakened, transformed, and raised up toward their destiny," Wilson said in 2021.
MORE: Education initiative works to revive 'beauty and wisdom' on college campuses
IMAGE: Catholic Art Institute/YouTube
Like The College Fix on Facebook / Follow us on Twitter