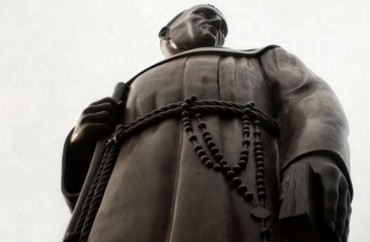 Students also call on the University of San Diego to replace its mascot, Diego Torero, with a 'non-human' one
A coalition of students at the University of San Diego have demanded that administrators denounce Saint Junípero Serra as a mass murderer with a "colonialist legacy." They also want the Catholic saint's name stripped from a campus building at the private, Catholic university.
The demand, one of nearly two dozen made by a coalition of black and LGBTQ students calling themselves "Concerned Students at USD," also demanded that administrators allow "a coalition of native students, staff and faculty" to rename USD's Serra Hall.
Serra was a Catholic, Franciscan missionary from Spain who arrived in the United States in 1749, and settled among the American Indians in California. With his settlement, he converted, baptized and educated thousands of Indians, but has also been described as practicing a paternalistic and aggressive approach among those he converted.
He was canonized as a saint within the Catholic Church in September, during Pope Francis' visit to the United States. Though, his elevation to sainthood was not without controversy.
That controversy has extend to the University of San Diego, with Concerned Students at USD alleging Serra's missions "massacred the vast majority of native peoples in California."
RELATED: Complaints prompt Catholic university to remove statue of priest praying over Indians
Michael Gonzalez, a history professor at USD and an expert on Serra, said questions surrounding the Catholic saint's legacy "defy easy explanation."
He said in a secular sense, one might see Serra's mission as colonialism, but that a religious perspective offers a different view.
"But if we use the standards of the era, and employ a religious perspective, the [Spanish] crown and the Franciscans believe they embarked upon a religious quest to establish Christianity in California," Gonzalez said in an email to The College Fix.
Gonzalez said the secular enterprise to make California a colony and the missionaries' duty to spread the faith intertwined.
"To do one was to do the other," he added.
Discussing the Concerned Students at USD's claim of massacre by Serra, Gonzalez explained that "when suggesting that Serra and the franciscans 'massacred' Indians, the students are probably referring to the way disease killed thousands of Indian converts in the missions."
Gonzalez said Serra and his fellow priests can't be held responsible for performing a massacre when it comes to the Indians' high mortality rate.
"While scholars can criticize Serra and the Franciscans for lacking medical training, they cannot be held accountable for failing to understand the spread of diseases and microbes," he said.
Serra is not the only figure celebrated on campus that Concerned Students at USD believes is a symbol of racism. It also wants USD to ditch its mascot, Diego Torero.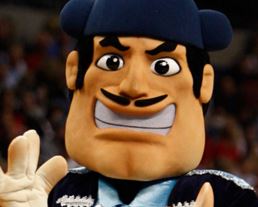 The mascot, which was adopted by USD in 2006, "is a racist and derogatory caricature of Spanish men" the demand states. It calls on the university to replace Diego Torero with a "non-human" mascot.
It's unclear whether the university will enact either of these two demands.
Some of the other 20 demands include gender-neutral bathroom on campus, banning the social media app Yik Yak, and a 10 percent increase in the number of tenured black professors in every academic department by 2020.
Addressing the demands in a letter in the campus newspaper, first-year president James Harris said the university will review them in their upcoming strategic planning process. That process will not be completed until next fall.
"Many in the campus community are reflecting on those recommendations, and since they are perfectly suited for the strategic planning process that has just begun, they will be taken up there," Harris wrote in The Vista.
Harris did not elaborate on whether all 22 demand would be discussed and considered.
Campus officials did not respond to The College Fix's request for comment.
RELATED: USD drag show includes transvestite dressed as Satan
Like The College Fix on Facebook / Follow us on Twitter
IMAGE: Edward Conde/Flickr