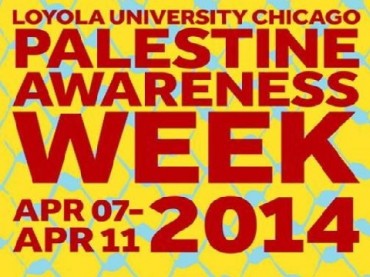 There was the Tweet that promised Israeli soldiers will face Armageddon.
There was the featured Muslim artist whose most famous poem is called "Hate," which accuses Israeli soldiers of shooting Palestinian boys for no reason.
There was the song that referred to Israelis as "dogs."
These are just a few ways in which some students at Loyola University Chicago, a private Catholic university described as one of the largest Jesuit colleges in the nation, marked "Palestine Awareness Week."
Organized by Loyola's Students for Justice in Palestine campus group, the observance last week featured an artist whose signature song includes the lines about the keffiyeh: "Now these dogs are starting to wear it as a trend No matter how they design it, no matter how they change its color, the keffiyeh is Arab, and it will stay Arab."
Those are the words of a hit song "Hamdulilah" written by "First Lady of Arabic Hip Hop" Shadia Monsour, who appeared on campus April 7.
Other activities throughout the week included a lecture on "The Role of Women in the Palestinian Struggle," a panel titled "Where Do We Go From Here?" on the future of the Palestinian conflict, and a screening of the Oscar-nominated documentary "5 Broken Cameras" by Iyad Burnat.
On Thursday, students viewed the "Gaza Monologues," performed by Tahani Salah. Salah is a poet and activist from Brooklyn. One of her best known pieces is a poem titled "Hate."
"So maybe this hate is not your ordinary hate…" the poem reads. "Maybe this hate makes children feel as though they have to hold their sh*t in one acts a day just to feel full. Before you could even say you didn't mean it that way, six year old children walking down roads kicking pebbles the wrong way get shot at. Seven year olds walking down roads, speaking the wrong language at the wrong times get shot at."
The finale for the week was "Palestine Solidarity Day" on Friday, when all participants were encouraged to wear the Palestinian kuffiyeh, a scarf with strong ties to the Muslim faith.
"To many, the kuffiyeh may be a fashion statement," SJP Loyola stated on its Facebook page for the event, "but to Palestinians and their allies, it is a symbol of 65 years of resistance against an occupation that has exhausted them socially, economically, and politically."
The kuffiyeh was a signature symbol of Palestinian leader Yasir Araffat in the '70s. Since then, it has become a symbol of solidarity with Palestine.
According to Monsour's song: "The scarf, they want it; Our intellect, they want it; Our dignity, they want it; Everything that's ours, they want it."
Mohannad MoeDee Rachid, a host of the event, tweeted this summary of the vibe of the observance on April 8:
SPJ has a strong presense on the Catholic campus. It successfully lobbied the student government to twice pass resolutions calling for divestment in "corporations complicit in the Israeli occupation."
The student government president vetoed the resolutions.
"Rest assured, this movement for divestment at Loyola is far from over," said SJP Loyola President Nashiha Alam on the group's website. "The wide attention on campus gained from the divestment resolution has revitalized the Jesuit spirit by inspiring students to take action and strive for justice."
College Fix contributor Vivian Hughbanks is a student at Hillsdale College.
Like The College Fix on Facebook / Follow us on Twitter
 IMAGE: Facebook, Twitter screenshots